How to Troubleshoot Bosch Nexxt 500 Washing Machine
Bosch Nexxt 500 front-loading washing machines offer several features, including a large capacity, 15 wash programs, sanitary wash option, a spin speed of 1,200 rpm, special stain program, internal water heater, energy efficiency options, water usage reduction and leak protection. The washer can be bought online or in select department or appliance stores and is offered with a limited warranty. However, users may not need to use this warranty for minor issues that can be resolved through troubleshooting efforts.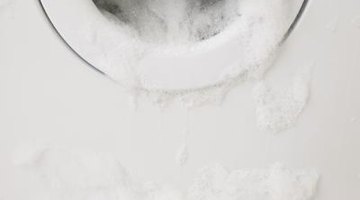 Insert the power cord fully into the Bosch Nexxt 500 washer and in a grounded 3-prong power outlet if the washer will not work. Reset or replace the fuse or circuit breaker if necessary.

Wait for the current cycle to finish before trying to open the door if the door is locked. The washing machine will unlock the door after the completion of the cycle. Note that the door will remain locked if the washer temperature, speed or water level is too high to safely open the door. If the door is locked because of a power failure, turn off power to the washer and then restore power and then attempt to open the door again.

Push the "Start/Pause" button on the washer's control panel if a wash program was selected but the washer does not begin operations. If the washer does not start after "Start/Pause" is pressed, ensure the door is closed properly.

Dry the detergent dispenser if the detergent does not enter the washing machine or leaves residue. Pour only the recommended amount of detergent into the dispenser and use high efficiency (HE) detergent.

Check the supply hose for kinks and clean the strainer inside the hose if the error "E:11" or "E:12" is shown on the control panel display. Make sure the water valves, located at the wall behind the washer, are both turned on all the way. Press "Start/Pause" to clear the error code.

Reduce the amount of detergent used if "E:13" is shown on the display. Use "HE" laundry detergent, as this is formulated for high-efficiency machines. Start a new wash and spin cycle to clear the error.

Check the water hose for leaks if "E:17" appears on the display. Close the water valve, turn off the power, clean the hose and tighten the connection. Turn the water valve back on before restoring power.
References
Writer Bio
Meredith Jameson writes early childhood parenting and family health articles for various online publications. She holds a Bachelor of Arts in history from San Francisco State University.
Photo Credits
Jupiterimages/Pixland/Getty Images
More Articles