Whirlpool Commercial Washer Troubleshooting
The Whirlpool Company manufactures a variety of clothes washers for residential and commercial use, such as dormitories or rental housing units. Some commercial Whirlpool washers are coin operated and most are energy efficient. You should have a professional technician install Whirlpool commercial washers to make sure they run with little difficulty. If issues arise with a Whirlpool commercial washer, it is possible to perform some basic troubleshooting before calling for assistance.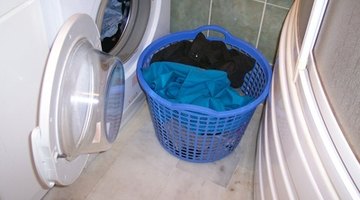 Check to make sure the washer is properly connected to a power supply if the washer does not work. Turn the "Cycle Control" knob slightly to the right and pull it out to start the washer.

Ensure the proper load setting is selected if the washer makes clicking sounds during use. This indicates a low water level.

Avoid using more than 1 cup of laundry detergent if the washer seems excessively sudsy or leaks. Do not overfill the washer with clothes, as this may cause the washer to stop.

Choose a warmer temperature cycle if the detergent does not seem to dissolve during the wash cycle.

Ensure the top of the drain hose is higher than the water level if the water continues to fill or drain even after the cycle has completed.

Balance the distribution of clothes in the washer before use if the washer moves or makes noise while in operation.
References
Writer Bio
Meredith Jameson writes early childhood parenting and family health articles for various online publications. She holds a Bachelor of Arts in history from San Francisco State University.
Photo Credits
More Articles