How to Use Teflon Tape With Braided Steel Flex Hose
Connecting water lines is a necessary part of household plumbing for many homeowners. Many people use flexible braided stainless steel hoses to connect appliances and faucets to water supplies. Teflon tape can be used with these connectors when they are used to make a connection to threaded pipe. Teflon tape ensures that your water line connections are secure and leakproof, but isn't messy or hard to work with like pipe sealing compound may be.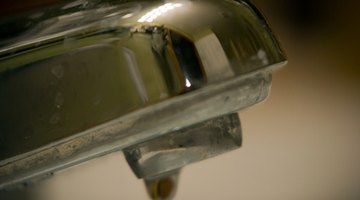 Clean the threaded male end of the pipe connector. Ensure that it is free of any burrs and dirt.

Wrap the Teflon tape around the male pipe threads using a clockwise motion--the same direction in which you will be attaching the female end of the braided stainless steel hose. Use a couple of revolutions of tape, but do not over-coat the threads.

Tighten the flex hose to the pipe fittings, first by hand, then with a pipe wrench. Ensure that you get a firm, tight connection in the fittings without overtightening them.

Repeat the earlier steps to connect all the plumbing in your installation.

Turn on the water supply, and check your installation for leaks. Retighten fittings as necessary.
References
Jerry Conway, Plumber; A1 Plumbing; Saint Joseph, Missouri
Warnings
Always check your local building code--sometimes it is required that you use "pipe dope," anaerobic chemical sealant, instead of Teflon tape.
Writer Bio
Based in the Midwest, Morgan Huntley has been writing since 2005. She has produced a variety of travel and home improvement articles for sites including eHow and Answerbag. She attended Truman State University.
Photo Credits
More Articles