Directions for the Rival Rice Steamer
The Rival rice steamer/cooker is a healthier way to prepare your food. It keeps your rice or vegetables warm when it finishes cooking so that you can remove when you're ready, making reheating unnecessary. The steaming basket makes it possible to cook rice and vegetables at the same time. Your Rival rice steamer should come with several attachments intended for use with the steamer only.
Rice Cooking Directions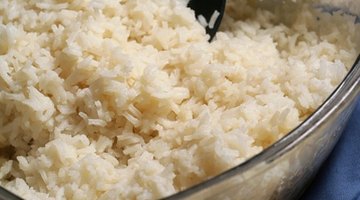 Step 1
Measure rice and water with the cup provided with your steamer. Use about 1 measuring cups of water per 1 cup of rice plus another 1/2 cup water. For example, if you've used 4 cups of rice, use 4 1/2 cups of water. Brown rice takes longer to cook, so Rival recommends using an additional 3/4 cups of water when making brown rice.
Step 2
Put rice and water into the inner pot.
Step 3
Place the inner pot into the rice cooker making sure the pot is in direct contact with the heating plate. Turn it slightly from left to right until it fits properly. If the inner pot is wet when placed in the rice cooker, you may hear a crackling noise until it heats. This can damage the inner components of the cooker so wiping down the inner pot before placing it inside is recommended by Rival.
Step 4
Cover with the lid provided. Steam will be generated during use so do not operate uncovered.
Step 5
Plug your rice steamer in and turn the switch to the on position by pushing the button down. The cook light should come on to indicate it is working and steaming will begin soon after. When cooking is complete, the switch will pop up and the keep warm light will turn on.
Step 6
Let rice stand covered for five to ten minutes of steaming once the light switches to keep warm.
Step 7
Open the lid, careful to avoid escaping steam as you do so. Use the rice paddle or another long utensil to mix the rice and allow all of the steam to escape. Do not touch the steamer or the inner pot until completely cooled.
Vegetable Steaming Instructions
Step 1
Clean and chop vegetables and set aside.
Step 2
Measure water according to cooking times of vegetables. Four ounces of water is used for vegetables cooking for seven to nine minutes. Eight ounces of water is needed for vegetables that will cook for 15 to 17 minutes. Your pot will come with a guide that recommends cook times for different vegetables.
Step 3
Add the water according to the inner pot guides, not the measuring cup. Asparagus, green beans, and carrots will need to cook 8 to 10 minutes. Broccoli, brussel sprouts, cauliflower, a single potato and zucchini should cook for 11 to 13 minutes. Squash, three potatoes, and cabbage wedges should cook longer than 15 minutes. Smaller vegetables like peas, sprouts, and mushrooms will need about 4 to 6 minutes to cook.
Step 4
Place the inner pot into the heating unit and put the steaming basket on the rim of the inner pot.
Step 5
Add vegetables to the steaming basket and put the lid on. Press the switch down to turn the unit on and steam for the time recommended.
Warnings
Clean rice steamer after every use. Never immerse the heating unit in water and don't use abrasive cleaners or pads to clean the inner pot.
Rival warns that you should never use instant rice with this appliance.
The measuring cup and paddle that come with your Rival steamer are not dishwasher safe and should only be washed in warm soapy water. Never use bleach, vinegar or other harsh chemicals to clean any part of your steamer.
Writer Bio
Renee Miller began writing professionally in 2008, contributing to websites and the "Community Press" newspaper. She is co-founder of On Fiction Writing, a website for writers. Miller holds a diploma in social services from Clarke College in Belleville, Ontario.
Photo Credits
cooked rice image by Liz Van Steenburgh from Fotolia.com
More Articles