George Foreman Quesadilla Maker Instructions
The George Foreman line of home appliances began with the George Foreman Grill and now includes specialized items such as the George Foreman Quesadilla Maker. Like others in the Foreman line, the quesadilla maker features easy-to-use instructions and the promise of a tasty meal at the end.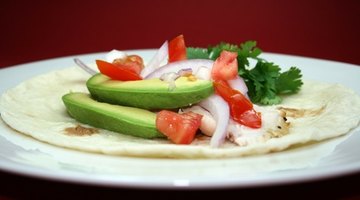 Brush the cooking plates with vegetable oil to protect the surface before preheating. Close the lid and plug in the quesadilla maker. Both of the unit's lights, red and green should be lit to indicate that the appliance is preheating.

Assemble the quesadillas while the quesadilla maker heats. After approximately five minutes, the green preheat light will turn off. The quesadilla maker has now reached the proper cooking temperature.

Raise the lid using a pot holder or towel because the unit could be hot. Place the uncooked quesadilla in the center of the bottom cooking plate. Close the lid. If the quesadillas are very thick, the unit may not latch shut. Do not force it; the quesadilla will still cook properly.

Allow the quesadilla to grill for approximately 3 to 4 minutes. Exact cooking time varies according to the filling and how brown you want the tortillas.

Raise the lid and gently loosen and remove the quesadilla with a plastic or wooden utensil. Close the lid and allow the unit to reheat for the next quesadilla.

After the last quesadilla is finished, unplug the appliance and allow it to cool completely. Wipe the base, lid and cooking plates with a damp cloth and gentle dishwashing detergent, if needed. Then wipe it again with a clean, damp cloth and towel-dry the unit.
References
Tips
Use 10-inch flour tortillas for best results.
Do not overfill the quesadillas; the filling could leak onto the cooking plates and burn.
Use shredded cheese instead of processed sliced cheese. Processed cheese liquefies when heated and will leak out of the quesadilla and onto the unit's cooking surface.
Spread quesadilla filling ingredients evenly to about 1/2-inch of the tortilla's edge to allow the edges of the quesadilla to form a seal.
Warnings
Steam may escape from the quesadilla as the unit cooks. Keep your face and bare hands away from the unit.
Use only plastic or wooden utensils to remove quesadillas; metal can scratch the nonstick surface.
Do not immerse the quesadilla maker in water.
Writer Bio
Lois Segoinyer has more than 15 years of experience in newspaper, magazine and book publishing and has been editing and writing for various websites since June 2009. Segoinyer earned a Bachelor of Arts in political science from Mississippi State University.
Photo Credits
More Articles