George Foreman GR20 Grill Instructions
The George Foreman GR20 grill, marketed as the "Lean Mean Fat-Reducing Grilling Machine," is a counter top appliance. It grills hamburger patties, chicken breasts, pork chops, fish fillets and steaks in less than 10 minutes. The appliance is able to grills foods quickly because it heats the food from both sides at once, between two grills. The slight angle of the grills allows excess fat to drain off the food and into the drip pan under the appliance.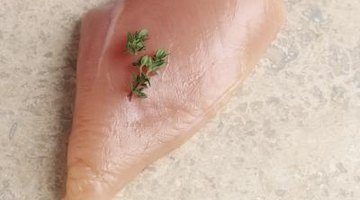 Wipe the grilling plates off with a damp dishcloth before using it for the first time. This will remove any dust that may be on them.

Place the drip tray under the front of the grill, not into, the appliance.

Close the lid and plug the appliance in. A power light turns on. Allow the grill to preheat for about five minutes.

Use a potholder to open the lid of the grill.

Place the food in a single layer on the lower grill and close the lid.

Allow the food to cook until the desired cooking time. Grilling times range from two and a half to 10 minutes. For example, it takes seven and nine minutes to grill a 4 oz. burger, five to nine minutes to grill a boneless chicken breast, and two and a half to four and a half minutes to grill salmon fillets.

Lift the lid using a potholder to check the food. Use the plastic spatula that comes with the grill or a wooden spatula.

Unplug the appliance and allow it to cool before cleaning.

Clean the machine by scraping off any bits of stuck-on food with the plastic spatula, if necessary, and then wiping it off with a damp sponge and drying it.
Warnings
Never leave the grill unsupervised, nor allow it to touch curtains, towels or other flammable material, when in operation.
Never use a metal spatula or fork to remove the food, as this can scratch the non-stick surface of the grilling plates.
Never immerse the appliance in water.
Writer Bio
Ann Johnson has been a freelance writer since 1995. She previously served as the editor of a community magazine in Southern California and was also an active real-estate agent, specializing in commercial and residential properties. She has a Bachelor of Arts in communications from California State University, Fullerton.
Photo Credits
Polka Dot Images/Polka Dot/Getty Images
More Articles