How to Troubleshoot Sunbeam Breadmaker Problems
The Sunbeam Company produces an electronic breadmaker for use in the home that makes a good-sized, 2-pound loaf of bread and offers several cooking functions, including "delay bake" and "express bake" options. The baking pan is removable and washable and the exterior of the breadmaker should wipe down easily. Operating the breadmaker is relatively easy to do, but troubleshooting potential problems can make operating the device even easier.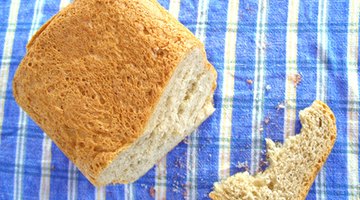 Step 1
Press the "Stop" button on the breadmaker and allow it to cool completely if smoke is seen or a burning odor can be smelled. The cooking ingredients have likely spilled into the machine. When cool, remove the baking pan and clean the machine before reusing.
Step 2
Ensure the kneading blade is correctly positioned and firmly installed if the dough does not mix.
Step 3
Use less flour or 1/4 teaspoon more water if the bread has flour on the top when baking is complete.
Step 4
Reduce the sugar in the recipe by 1 tablespoon if the bread is too brown when complete or choose a lighter crust temperature setting.
Step 5
Avoid opening the lid to the breadmaker during cooking if the bread is not cooked or brown enough when the cooking cycle is complete.
Step 6
Add 1/4 teaspoon more yeast or 1 teaspoon less water if the bread did not rise enough during cooking. Remember to add salt to the recipe and follow the recipe directions for the type of flour needed for the specific bread.
References
Writer Bio
Meredith Jameson writes early childhood parenting and family health articles for various online publications. She holds a Bachelor of Arts in history from San Francisco State University.
Photo Credits
More Articles