How to Repair a Sunbeam Bread Machine
Sunbeam bread makers make many types of bread with the touch of a button. You may need to repair your machine if smoke or a burning odor comes from the back of the machine, the dough does not mix properly or your bread does not turn brown enough. Fix your unit by cleaning it, attaching the baking pan and kneading blade properly and making sure the lid is closed correctly.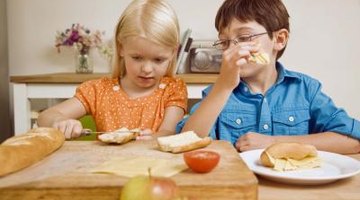 Step 1
Stop your bread machine and allow it to cool off if you smell a burning odor or see smoke coming from the back of your machine. This happens when ingredients have fallen out of the bread pan and into the bread maker itself. Clean your unit out before using it again.
Step 2
Be sure the kneading blade and baking pan are correctly installed in the machine if the dough fails to mix. Attach the kneading blade in the baking pan before adding the ingredients for the dough.
Step 3
Make sure the lid is shut while the bread maker is working if your bread is not brown enough. This usually happens when the lid is left open while baking bread or when the lid of the machine is repeatedly lifted. Try choosing a darker selection for the crust color while baking bread.
References
Writer Bio
Percila Jackson has been a writer since 2008. She primarily writes computer, electronics, legal and tax articles for various websites. Jackson holds a Bachelor of Arts in political science from California State University, Long Beach.
Photo Credits
Jupiterimages/Polka Dot/Getty Images
More Articles