How to Reset a Kenmore Coldspot Filter Indicator
Kenmore Coldspot side by side refrigerators use a water filter to filter the water going to the dispenser and the ice maker. Some Coldspot refrigerators have an indicator light inside the refrigerator compartment that lets you know when to change filters. The light goes from green to yellow indicating that you should purchase your replacement filter. Replace the filter when the light turns red. When you complete the replacement you must reset the Kenmore Coldspot filter indicator.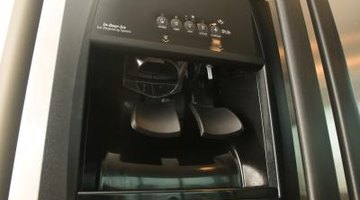 Step 1
Locate the light switch button next to the filter indicator light inside your refrigerator compartment. The switch resembles a small stem push button.
Step 2
Press and release the switch five times within 10 seconds with your finger.
Step 3
Watch the status light change from red to green.
Writer Bio
Kenneth Crawford is a freelance writer with more than 10 years of experience. His work has appeared in both print and online publications, including "The American Chronicle." Crawford holds an associate degree in business administration from Commonwealth College.
Photo Credits
Jupiterimages/Photos.com/Getty Images
More Articles