How to Use a Magic Bullet to Grind Wheat
Many people derive great satisfaction from making their own food. Grinding wheat to produce your own flour is taking "homemade" to a whole new level. It may seem daunting and laborious, but grinding grains is actually easy to accomplish with the use of a powerful food mill like the Magic Bullet. This device makes simple work of breaking hard shells and grinding wheat to a smooth powder. The result is fresh, silky flour ready for baking.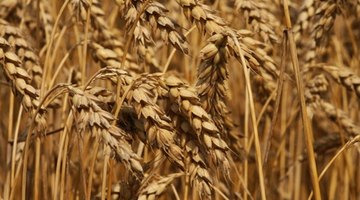 Wash and dry all the Magic Bullet components thoroughly.

Measure and pour the wheat berries into the large-sized Magic Bullet cup.

Place the lid with the flat blades onto the cup and screw tightly to secure in place. The flat blade is ideal for grinding hard foods, so be sure you are using the appropriate lid.

Plug the power base into an electrical outlet. Make sure you are in a dry, clean area.

Align the notches in the Magic Bullet lid with the notches in the power base.

Press down and turn to the right to activate the motor. Allow the grains to whir for 30 seconds.

Stop the blending by releasing pressure from the cup. Open the jar to view the powder.

Continue blending if the flour is too coarse. When ready, pour the flour into your storage container.
References
Tips
1 cup of wheat berries produces 1 3/4 cups flour.
Writer Bio
Ava Perez cut her journalism teeth in 2005 while balancing her university studies with a voracious appetite for fashion, music and beauty. Her music reviews, interviews and editorials have been published in numerous magazines worldwide. She specializes in writing beauty, health and fitness-related articles for various websites. Perez holds a Bachelor of Arts in communications from York University.
Photo Credits
More Articles