Instructions for the Sunbeam Oskar
Sunbeam's Oskar food processor features a 400 watt motor to prevent bogging down under heavy loads and performs a wide variety of functions. This unit can be used for chopping, mincing, mixing, shredding, blending, slicing and pureeing. Processing can be done in the attached processing bowl, or you can use the continuous flow attachment to prepare large amounts of food at one time. The Oskar is easy to set up for quick processing and easy to take apart for cleaning.
Preparation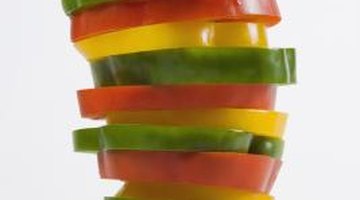 Wash all parts of the food processor except the motorized base in warm, soapy water before using the processor for the first time. Wipe the base down with a damp cloth instead. Place the base on a flat surface with the taller end of the processor facing away from you. Set the processing bowl and then desired blade down over the drive shaft until they slide into place.
Using the Processor
Drop the food into the processing bowl and put the bowl cover on top of the bowl. Plug the unit in and slide the lid counter-clockwise until it locks into place and automatically turns the unit on. To turn the unit off, simply turn the lid clockwise. When finished, remove the bowl cover and the processing blade. Scoop the food from the processing bowl.
Continuous Flow Processing
To use continuous flow processing, snap the bowl into place over the drive shaft, followed by the ejector disk and the desired food processing blade. The ejector disk fits into the processor with the longer end pointing down. Seat the continuous flow attachment on the bowl and set a large bowl underneath the chute. Plug the unit in, turn it on and rotate the continuous flow food processor lid counter-clockwise until the unit starts. Use the food pusher to continue feeding in food as needed. Turn the attachment clockwise to shut off the processor.
References
Writer Bio
William Pullman is a freelance writer from New Jersey. He has written for a variety of online and offline media publications, including "The Daily Journal," "Ocular Surgery News," "Endocrine Today," radio, blogs and other various Internet platforms. Pullman holds a Master of Arts degree in Writing from Rowan University.
Photo Credits
Polka Dot Images/Polka Dot/Getty Images
More Articles