How to Prepare Marine Plywood for a Boat Deck
Using marine plywood as the final deck surface aboard a vessel is a viable alternative to many other products. Marine plywood uses special water-resistant glues. Also, marine-grade plywood uses a better quality of veneer -- the exposed layer of the plywood -- than most interior plywoods, so that when you cut marine grade plywood, you won't have "a void in one laminate on a freshly cut edge," according to Professor Gene Wengert, retired Professor and Extension Specialist in Wood Processing, Department of Forestry, University of Wisconsin-Madison, in an commentary for "Woodweb."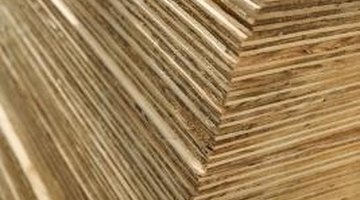 Spread a waterproof sealing compound on the top side of the plywood with a paintbrush.

Apply waterproof sealer to the edges of the plywood.

Cover the bottom of the plywood with waterproof sealer completely.
References
Tips
Apply waterproof sealer to each edge of the new, smaller piece if you cut the plywood into smaller sections.
Warnings
Wear safety glasses, chemically resistant gloves and, if possible, chemically resistant clothing when working with waterproof sealer.
Writer Bio
Will Charpentier is a writer who specializes in boating and maritime subjects. A retired ship captain, Charpentier holds a doctorate in applied ocean science and engineering. He is also a certified marine technician and the author of a popular text on writing local history.
Photo Credits
Thinkstock/Comstock/Getty Images
More Articles