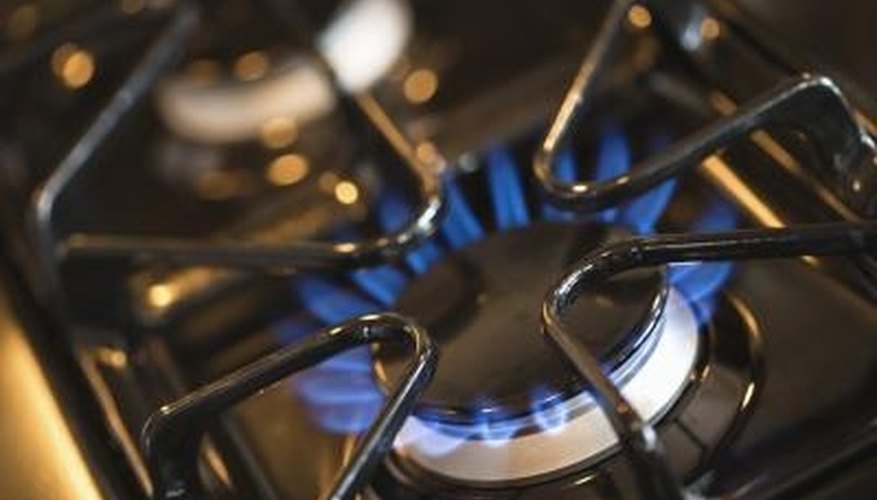 The GE Monogram collection includes refrigerators, ventilation systems, grills, ranges and cooktops and the Monogram cooktop offers induction cooking and a smooth cooking surface. Troubleshooting the GE Monogram cooktop only takes a few steps and may help identify and solve problems without the need for professional service.
Use induction type cookware if the surface elements seem to cook too slowly or do not maintain a rolling boil. Induction style cookware has flat bottoms, is designed for cooking on induction cooktops, and can be purchased at many department stores or cooking supply stores.
Position the cookware properly over the center of the cooking surface if the error code "F" flashes. Use only induction cookware and use a bigger pan, as the error code "F" indicates that the pan is too small for the cooking element.
Wipe down the cooktop after every use with a non-abrasive cleaner if scratches are appearing on the cooktop. Coarse particles may be getting caught between the cookware and the surface, causing scratches. Do not use cookware with rough bottoms.
Wait for the cooktop to cool down properly if areas of discoloration appear on the cooktop. This is normal when areas of the cooktop are hot and will return to a normal color once cooled.
Wipe down the keypad with a clean, damp cloth if the keypad is not responding to touch controls or the error code "E c" appears. Ensure the power is connected to the unit and reset the fuse or circuit breaker if necessary.
Remove cookware from the surface, turn off the cooktop and wait 30 minutes before use if the error code "E o" appears on the display. This indicates the surface has gotten too hot and may be caused by empty pans on the cooktop or blocked ventilation. Remove any possible ventilation obstacles.
Things You Will Need

Power supply
Non-abrasive cleaner
Clean cloth(s)
Water
Induction cookware