Instructions for the Melitta Mill & Brew
The Melitta Mill and Brew is a well-received combination electric coffee maker. Combination coffee makers both grind and brew a drip-style coffee. The metal mesh filter provides consumers with a true flavor for their favorite coffees. Reviewers have mentioned that the grinder is sturdy and holds up to large amounts of use. Before using your Mill and Brew, it is important that you run two wash cycles before making any coffee and thoroughly clean and dry the carafe and filter basket.
Grinding and Brewing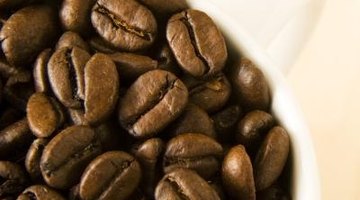 Plug the coffee maker into an electrical outlet.

Fill the carafe with the desired amount of water. Markings on the side of the carafe display the number of 5-ounce cups to be made.

Pour the water into the reservoir at the top of the machine and place the carafe on the warming plate.

Open the Mill and Brew assembly and place one scoop of whole coffee beans into the basket per every two cups of brewed coffee. Replace the basket into the machine and check that the lid is seated securely.

Select the coarseness of your grind on the electronic display on the front of the machine. The machine is automatically preset for a medium grind, and grind size is determined by length of grind.

Check that the "Mill" light is turned off, then press the "Power" button. The mill will turn on and grind the coffee. When the milling has finished, the machine will automatically switch to the brewing function.
References
Resources
Tips
You can substitute ground coffee for whole beans and skip the milling process.
If using ground coffee, check that the Mill indicator light is on. You can turn it on by pressing the "Mill" button.
Warnings
You should not put more than the limit of eight scoops of whole beans into the basket.
The coffee maker will not function if the lid to the assembly and basket are not closed correctly.
Writer Bio
Chris Steel began writing professionally in 2010, specializing in cooking, fitness and nutrition. He has also taught English for two years in Korea. Steel holds a bachelor's degree in sports sciences from Ohio University and an associate degree in culinary arts from Western Culinary Institute.
Photo Credits
Aaron Graubart/Photodisc/Getty Images
More Articles