Instructions for the Grind & Brew Thermal 10-Cup Automatic Coffeemaker
Many coffee experts agree that for absolutely the best cup of coffee, you must grind your beans right before making coffee. With most coffeemakers you have to purchase a separate coffee grinder in order to achieve this goal. The Grind & Brew by Cuisinart eliminates that need by combining both functions into one counter-top machine. The Grind & Brew also includes a charcoal water filter for the best tasting start to your coffee, and its thermal carafe means that your coffee won't be sitting on a heated plate all morning, altering its taste.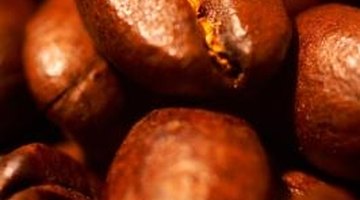 Open the reservoir cover by pressing the release button to loosen the latch. Lift the cover and pour water into the reservoir for the desired amount of coffee. Watch the lines on the side of the machine, as these indicate the correct amount of water for each number of cups.

Open the grinder basket lid. Use the included coffee bean scoop to measure the correct amount of coffee beans into the grinder basket. If you're making between 1 and 4 cups of coffee, use 1 1/2 scoops per cup. If you want to make between 4 and 10 cups of coffee, use 1 scoop per cup.

Push the button on the filter basket door to open the door. Add a coffee filter to the basket. Use either a #4 paper filter or a Cuisinart permanent filter. Close the filter basket door.

Close the lid on the water reservoir. Push down on the lid until you hear the click of the locking mechanism. The Grind & Brew coffee maker will not work unless this lid is securely locked.

Grasp the handle of the carafe and turn the carafe to the left to remove it from the machine. Rinse the carafe out with hot water to pre-warm it. Put the carafe back into the machine and turn the handle toward the right to lock it in place.

Push the appropriate button for the number of cups you are making. Push the "On/Off" button to start the grinding and brewing process. The machine will shut off automatically when the coffee is done brewing.
References
Writer Bio
Working in sunny Florida, Anne Baley has been writing professionally since 2009. Her home and lifestyle articles have been seen on Coldwell Banker and Gardening Know How. Baley has published a series of books teaching how to live a frugal life with style and panache.
Photo Credits
Jupiterimages/Photos.com/Getty Images
More Articles