How to Put a Lock on the Basement Door
Sometimes a shut door is not enough protection to keep your young child or pet out of your basement. Curious children, or stealthy dogs, will find a way to open the door without your knowledge, even if the doorknob has a lock. To make sure this doesn't happen, the best thing you can do is attach another, higher latch lock on your door. Latch locks at adult-height levels will ensure your family and pets are safe from whatever danger may lurk in the basement.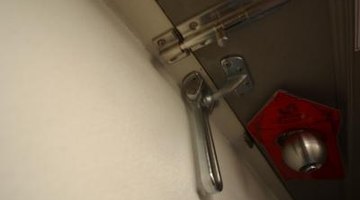 Prepare your basement door and adjacent wall. Determine where you would like to mount the slide latch. Use the latch to pencil-mark the holes where the screws will be placed. Make sure the latch -- the male piece -- and its female counterpart on the wall are level.

Start drill holes. After you decide where your latch will go, use a screw and your drill to start the holes into the door and the wall so you can more easily mount the latch.

Mount the latch on the door. Mount the male side first on the door because it is easier to patch drywall than to patch a wooden door. This will also help you match the female side on the wall.

Mount the female piece to the wall. Before completely securing this piece, use your predrilled holes to mount the piece momentarily to make sure the male and female pieces are lined up correctly.

Secure the female piece to the wall. Once you are sure the pieces are in line, finish securing the screws flush to the wall. Test your latch to make sure it works correctly.
Writer Bio
Jaime Swanson started working as a journalist in 2001. She has written and edited for newspapers in northern Illinois, including the "Daily Southtown" and the "Daily Herald," both in suburban Chicago. Swanson holds a Bachelor of Arts in English from Northern Illinois University.
Photo Credits
Jupiterimages/Photos.com/Getty Images
More Articles