Jura Capresso E8: Troubleshooting Guide
The Jura Capresso Company manufactures a variety of coffee makers and appliances, including coffee grinders, frothers, accessories and espresso machines. The Impressa E-line of espresso makers, including the E8, offer several features, including mild, regular or strong coffee settings, automatic grinding of up to 16 grams of coffee, an 8 oz. bean container and a separate funnel for pre-ground coffee. Troubleshooting the Jura E8 espresso maker can help users identify problems.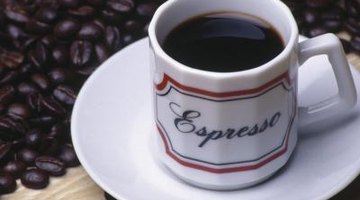 Make sure the Jura espresso machine is correctly plugged into a working power supply if the machine does not turn on or function. Reset circuit breakers if necessary.

Stir the beans inside the grinder and turn the grinder to the coarsest setting if coffee is not dispensing properly from the coffee spout. Avoid placing ground coffee in the whole bean grinder or whole beans in the ground coffee funnel.

Place a large empty cup under the coffee spout and push the "Rinse" button until the display reads "Rinse" if the ground coffee funnel or the internal brewing compartment is clogged. Push the "Rinse Ready" dial until the blocked coffee is forced into the cup.

Ensure the low-water indicator floating device is positioned correctly in the water tank if the display shows "Fill Water" but the water tank has been filled to the max line. There is a small container in the water tank with a clear cover and a small flotation device inside. Place the flotation device inside the small container with the lid closed.

Only use cold milk if the milk is not frothing as expected. Skim milk makes the thickest froth, while full fat milk makes less froth.

Turn off and unplug the espresso maker if the drawer does not pull out or if the display reads "Malfunction 8." Wait a full minute before turning the machine back on and wait for any noise to cease. Pull the drawer out.
Writer Bio
Meredith Jameson writes early childhood parenting and family health articles for various online publications. She holds a Bachelor of Arts in history from San Francisco State University.
Photo Credits
Hemera Technologies/Photos.com/Getty Images
More Articles