Wonder Washer Instructions
You live in a tiny apartment, you're camping in an RV or you're on the road in motels. There are many reasons you may need a tiny washing machine, large enough to clean a day's worth of clothes yet small enough to hold in your hands. The Wonder Washer is just this kind of appliance. Place the water, detergent and clothes in the top, and in 15 minutes or so you'll have clean clothes ready to dry, without going to the laundromat.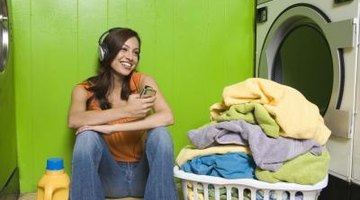 Place the Wonder Washer on the floor near a sink. Twist the lid to loosen the lock and remove it.

Pour in one-half cap full of laundry detergent. Add 10 qts. of warm or hot water, depending on the clothing you are going to wash. Swish the water and detergent around with your hand to mix it together.

Add your clothing, one piece at a time. Push each piece down into the water until it is totally submerged. Do not overfill the washer; allow enough room between pieces so that they can move and agitate.

Replace the top on the Wonder Washer and twist it to lock. Plug the cord into an outlet. Turn the timer dial to the desired length of time for washing. Allow the clothes to agitate.

Lift up the Wonder Washer to the counter next to the sink when it is done agitating. Pour out the dirty water through the holes in the lid.

Rinse the clothing under running water to remove any soap residue and hang them to dry.
Writer Bio
Working in sunny Florida, Anne Baley has been writing professionally since 2009. Her home and lifestyle articles have been seen on Coldwell Banker and Gardening Know How. Baley has published a series of books teaching how to live a frugal life with style and panache.
Photo Credits
Jupiterimages/Brand X Pictures/Getty Images
More Articles