How to Replace Chair Cane With Fabric
Cane-seat chairs are often found at garage sales with damaged cane. This may make the chair very inexpensive, which is a good deal for savvy bargain hunters. It is not difficult to cover a cane seat with fabric and completely update the look of the chair. Make sure the rest of the chair is in good condition, and ask the seller if there are additional companion chairs to make a set or pair of chairs.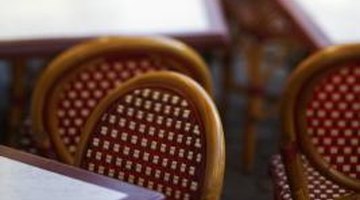 Step 1
Remove the cane from the seat bottom. Usually this can be done with tin snips, a screwdriver and pliers.
Step 2
Place a piece of cardboard over the chair seat. From the underside, draw around the shape of the chair. Cut off the waste with scissors. Continue shaping the cardboard to the chair seat until it is a perfect fit.
Step 3
Take your cardboard to a home improvement store and locate some small cut pieces of plywood. Buy 1/4-inch plywood that is larger than your cardboard. Use your cardboard as a pattern and trace the shape onto the plywood. Cut the shape out of the plywood using a jigsaw. Sand the plywood to smooth the edges. Check your plywood on the chair and make any final adjustments.
Step 4
Apply construction adhesive to the bottom edges of the plywood where they contact the chair seat. Clamp the plywood and chair seat together. Screw two cantilever wood screws through the plywood into the chair seat on each side of the chair. Allow the adhesive to dry overnight.
Step 5
Remove the clamps. Spray the plywood chair seat with spray adhesive. Place 1-inch foam over the plywood. Use an electrical kitchen knife to trim around the sides and to taper the seat in a nice curve. Cover the foam with quilt batting. Stretch the batting across the foam, over the side to the underside of the chair. Staple the batting. Stretch and fit the batting so that it is even and snug. You will need to cut around where the back posts rise out of the seat. Trim any excess.
Step 6
Place fabric over the batting. Stretch and fit the fabric into position. Turn the fabric under where it wraps around the legs or posts. Wrap the fabric to the underside and staple it in place. Trim off any excess fabric.
References
Writer Bio
F.R.R. Mallory has been published since 1996, writing books, short stories, articles and essays. She has worked as an architect, restored cars, designed clothing, renovated homes and makes crafts. She is a graduate of the University of California at Berkeley with bachelor's degrees in psychology and English. Her fiction short story "Black Ice" recently won a National Space Society contest.
Photo Credits
Thinkstock/Comstock/Getty Images
More Articles