How to Use Washing Machines With a Generator
When the power goes out, you can still wash your clothes by powering your electric washing machine with a portable home generator. The generator supplies the power needed for most household appliances as it converts the power from its motor into an electrical charge ready for use. The amount of power it is capable of producing is determined in watts. A standard clothes washing machine is powered by this current in the same way as any other appliance. Use a heavy-duty extension cord that's rated for outdoor use and can carry the watts or amps required by the washing machine.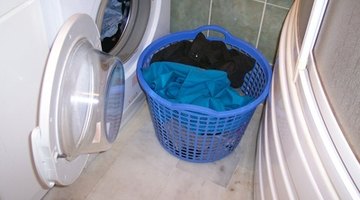 Place the generator outdoors, away from windows or doors, under an open canopy or another protective cover that is well-ventilated. Fuel the unit according to the directions in the owner's manual.

Start the generator according to the manufacturer's instructions. Let the generator run a few minutes. Verify it is running correctly, according to the instructions.

Unplug any other appliance that may be attached to the generator. Attach the extension cord to the generator according to the manufacturer's instructions. Run it to the washing machine. Attach the washing machine power cord to the extension cord.

Check the generator to ensure it is still operating correctly. Turn on the washing machine to verify that it is pulling sufficient power to operate correctly.

Let the washing machine run a moment to bring its motor up to power. Don't run any other other appliances on the generator while you let the machine bring its motor up to power.
References
Tips
Check the washing machine owner's manual for its power requirements. Its power usage also will be listed on the faceplate on the back of the unit.
Purchase a generator large enough to supply all your power needs in case of an emergency.
Stagger the starting of appliances that may need more power initially, such as washing machines and refrigerators.
Warnings
A portable generator creates toxic fumes and should never be operated indoors or in a garage.
Keep the generator dry and covered.
Make sure the electrical cord connections are kept dry.
Do not touch the generator or power cords with wet hands.
Wiring a generator directly to your home's electrical system should only be done by a professional.
Writer Bio
Billy Ray has been writing since 1994. He writes a popular featured column on the sports Web site Bleacher Report and has been licensed in loan origination and real estate. He is an EPA-certified Lead-based-paint renovator. Billy has taken courses in real estate, commercial lending and home renovation in addition to college courses in writing at Southern Oregon State University.
Photo Credits
More Articles