How to Cover Very Small Windows
Very small windows often look silly with curtains hung over them, especially if the window is in a door, for instance. However, for privacy and security as much as anything, you will rarely want to leave a window undressed, unless it is very high up in the building. Also, you will want to find a window covering that looks good from both the inside and the outside. There are many window covering options available, in a range of prices. With a little imagination, you will find a window covering to suit your needs.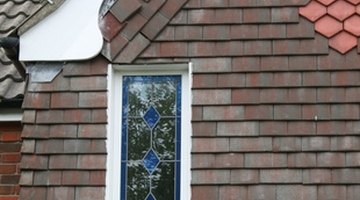 Spray a small door or bathroom window with a glass frosting spray. This is a good option if you want to retain the light source from the window, while ensuring privacy. Hardware and craft stores stock these kind of sprays and one can costing under $10 will cover up to 20 square feet of glass, giving you more than enough to cover several small windows.

Cut a window cling to size and stick it over the small window you want to cover. Window clings come in a variety of styles. You can create a frosted look using a window cling, or give your window a more elaborate stained-glass type design. Colored window clings may cut out more of the light source than frosted clings, but when the sun shines through a colored cling it can create a lovely colored ambient light in a room. Window clings are made from a film that sticks to the window without the use of adhesive, so you are not left with any residue when you want to remove it. There are many online window cling suppliers so you will be able to find the ideal window cling for your purpose.

Create your own mini-curtains for small windows. Fabric placemats folded over at the top and sewn or glued into place allow for a narrow piece of doweling to be threaded through for a curtain pole. Simple screw-in hooks, large enough to hold the doweling, placed either on the side or on top the small window makes your mini-curtain easy to hang. You can even buy small magnetic curtain rails if you are covering a small window on a metal door, for instance. While ordinary curtain fittings and double curtains that draw together would swamp a very small window, these self-made mini-curtains will look appropriate and cute. If a solid type of fabric will cut out too much light, you can use a piece of voile hung from a small pole. Hem the voile at the top and the bottom.
References
Resources
Tips
You can make your own window cling using resources found easily online.
Writer Bio
Steve Sparkes started writing professionally in 1982. He was a journalist and photographer for "The New York Waste" magazine for a decade. Sparkes has a diploma of art and design and a Bachelor of Arts in history of art from the South-East Essex School of Art. He also has a Master of Arts in photography from the London School of Printing and Graphic Arts.
Photo Credits
More Articles