How to Hook Up a Log Splitter to My Tractor
Log splitters perform the function of splitting logs using pressure generated by an engine. A tractor operated log splitter can operate one of two ways: the hydraulic system of the tractor can power the splitter directly or the power take off (PTO) of the tractor can power a separate hydraulic pump used to operate the log splitter. Connecting either type of log splitter to the tractor requires little effort and can be quickly accomplished.
PTO Driven Log Splitter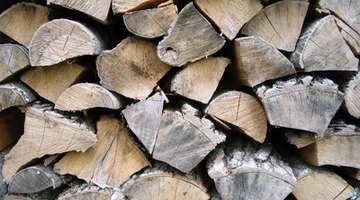 Step 1
Hook the log splitter to the tractor. You can either place a hitch pin through the hitch of the log splitter and the drawbar of the tractor or connect the splitter to the tractor with pins through the three-point hitch.
Step 2
Connect the PTO shaft of the log splitter to the PTO of the tractor. Align the splines or grooves of the splitter shaft with the stub shaft housing of the tractor and slide the shaft into the housing. Lock it in place with a security pen or by the included locking mechanism of the stub shaft, whichever is present.
Step 3
Start the tractor and engage the PTO to provide power to the log splitter hydraulic system. Operate the log splitter through its control panel.
Hydraulic Driven Log Splitters.
Step 1
Hook the log splitter to the tractor drawbar or three-point hitch.
Step 2
Remove protective caps on all hydraulic couplers. Check the couplers for dirt, dust or other materials that will interfere with the connection between fittings.
Step 3
Push the couplers on the log splitter's hydraulic hoses straight into the hydraulic receptacles of the tractor until they lock in place. Connect the input hose of the log splitter to the extend receptacle and the return hose to the return receptacle of the tractor.
References
Writer Bio
Keith Allen, a 1979 graduate of Valley City State College, has worked at a variety of jobs including computer operator, medical clinic manager, radio talk show host and potato sorter. For over five years he has worked as a newspaper reporter and historic researcher. His works have appeared in regional newspapers in North Dakota and in "North Dakota Horizons" and "Cowboys and Indians" magazines.
Photo Credits
More Articles