How to Use Dewalt Batteries in Black & Decker Power Tools
Many power tools utilize a strong battery instead of using a power adapter. Black and Decker tools and Dewalt tools use lithium ion batteries of varying voltages. As long as your voltage matches, you should be able to use a Black and Decker tool with a Dewalt battery. Most power tools use rechargeable batteries, so it is unlikely that you will need to replace your Black and Decker battery if you still have it.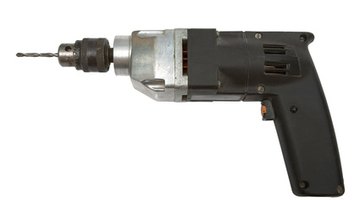 Determine the voltage your Black and Decker tools require. Most Black and Decker tools attach to their battery at the bottom. These batteries display the voltage with black letters. If you have lost the tool's battery, check the user's manual or check the Black and Decker website.

Remove the Black and Decker tool's original battery, if necessary.

Locate the Dewalt battery of the appropriate voltage. Any battery that matches in voltage should work with tools because both Dewalt and Black and Decker use lithium-ion batteries.

Plug the Dewalt battery into the tool. Align the knob of the battery with the hole of the tool. Push the battery into the bottom of the tool.

Press the power button to turn the tool on.
References
Writer Bio
Breann Kanobi has worked as freelance writer since 2010. Kanobi regularly submits content online to Gamer DNA. Kanobi received a Bachelor of Fine Arts in film and television from New York University in 2010.
Photo Credits
Electric drill with a drill on a white background image by terex from Fotolia.com
More Articles