Orthomatic Adjustable Bed Installation Instructions
With seven positions and many comfortable features, adjustable beds are a popular sleeping choice. Leggett & Platt acquired Orthomatic in 2004, so when seeking installation instructions contact Leggett & Platt. Due to their motorized components, adjustable beds come with safety precautions. Follow directions carefully -- and per the manufacturer instructions -- you may want a second person to help, especially with the mattress retainer assembly.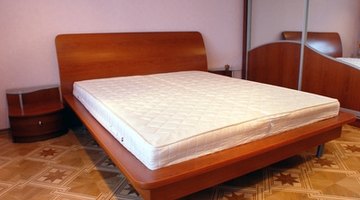 Take the mattress retainer and headboard brackets off the sides of the bed. Take all items out of their packaging as well.

Locate the caster sockets, turn the casters upside down and push them into the sockets. Push the lock tab on each caster down to lock them in place.

Set the bed's mattress on the floor and set the large central base unit on top. Take the bolts off the bed's foot end. Underneath the bed's foot end are four treaded lug locator pins. Remove the pins to expose the threaded lugs.

Position the mattress retainer and hold it while you insert the two inside mattress retainer bolts into the threaded lugs. Then, insert the two outside mattress retainer bolts. Tighten all four bolts with a 7/16 wrench.

Assemble the headboard brackets, if your bed comes with this feature. Fit the brackets together with the included carriage bolts, nylon spacers and tension lock nuts. If it's a twin-size or larger, the brackets will also require two 1/2" hex bolts.

Plug the bed's power cord into an outlet. Use the hand control to turn the power on and use the different functions.
References
Writer Bio
Meg North has written professionally since 2008 as an online copywriter for the Sturbridge Yankee Workshop. She also published a short story in "The Maine Scholar." North has a Bachelor of Arts in media writing from the University of Southern Maine.
Photo Credits
More Articles