How to Repair Wooden Rocking Chairs
Wooden rocking chairs are often passed down as family heirlooms from one generation to the next. Over time the joints in wooden furniture become worn and loose. Whether your rocking chair is a cherished heirloom or a new addition to your furniture collection, it is important to make repairs to furniture joints as soon as a loose joint is detected. If left loose, it will weaken the overall structure of the chair and may lead to more serious damage.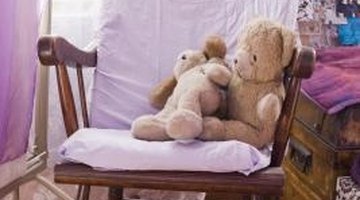 Tap any loose joints on the rocking chair apart with a rubber mallet.

Sand both ends of the parts that form the joint with 80-grit sandpaper to remove any remaining glue on the wood.

Wet the joint ends of the parts with a wet rag. This will cause the wood to swell and fit tightly while you fit the parts together during the gluing process.

Apply wood glue to both ends of the parts that form joints. Insert the joints back together. Wipe off any excess glue with a cloth rag.

Clamp the repaired joints together with wood clamps. Allow the glue to dry at least 24 hours and remove the clamps.
References
Resources
Tips
Inspect your rocking chair joints in the spring. Joints often dry out over the winter months due to indoor heating and dry air conditions, especially in colder climates.
Warnings
Wear eye protection when sanding wood. Don't force joints apart. If the joint is loose but will not come apart, monitor it and make the repair once it becomes loose enough to tap apart.
Writer Bio
Jonah Morrissey has been writing for print and online publications since 2000. He began his career as a staff reporter/photographer for a weekly newspaper in upstate New York. Morrissey specializes in topics related to home-and-garden projects, green living and small business. He graduated from Saint Michael's College, earning a B.A. in political science with a minor in journalism and mass communications.
Photo Credits
Jupiterimages/Goodshoot/Getty Images
More Articles