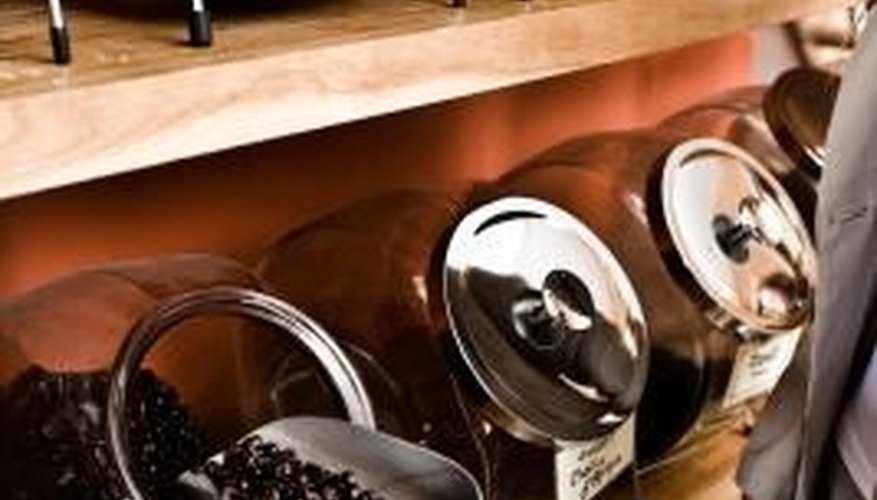 The coffee machine grinds the coffee beans as part of the brewing process. The Saeco Vienna Deluxe Coffee Machine is fairly easy to keep clean, but you need to clean some parts on a daily basis in order to keep the machine functioning properly. No special tools or harsh cleaning agents are necessary for the cleaning process.
Push "Off" on the coffee maker's control panel. Unplug the coffee maker, and allow the machine to cool down completely. Remove the coffee bean container by lifting up on it and sliding it out. Wipe it out daily with a damp cloth, and slide it back into the coffee maker. Press down on the handle to click the container into place.
Dump out the water in the water container on a daily basis. Wipe out the water container with a damp cloth. Refill the water container with clear drinking water.
Remove the dump box and drip tray, and empty them on a daily basis. Wipe each one down with a damp cloth. Open the service door and push "Press." Remove the brew group by its handle, and rinse if off in a sink with hot water. Use the key provided to unscrew the plastic pin holding the metal filters together. Rinse each one separately. Put the filter back together and dry the separate parts with a towel.
Mix a package of descaler with the water in the water container every four to six months to rid the coffee machine of mineral deposits. Plug in the coffee machine, and select "On." Select the "Hot Water" button, and position the steam valve over the drip tray. Dispense two thirds of the descaler and water into a container in 15 minute intervals by turning the steam valve counterclockwise to dispense and clockwise to shut off the flow.
Let the coffee machine heat up fully, and then dispense the remaining descaler and water by turning the steam valve counterclockwise to empty the water container. Press "Off" to turn the machine off.
Things You Will Need

Damp cloth
Towel
Descaler
Container