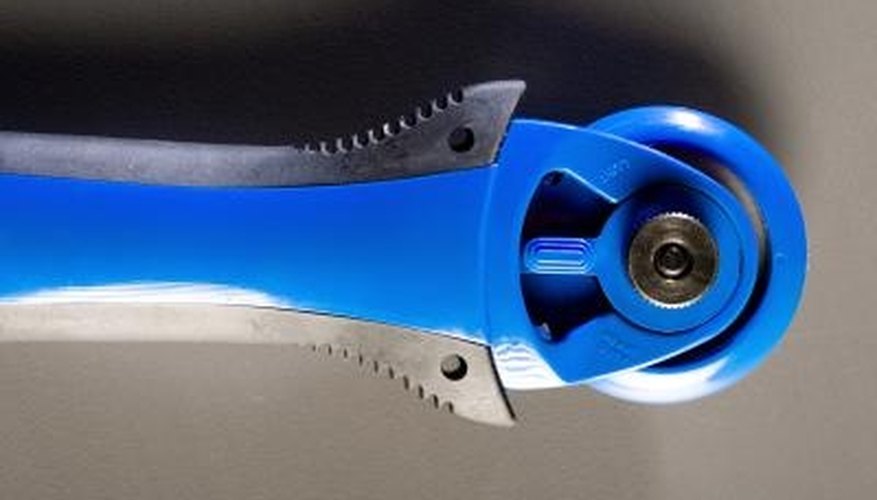 Instead of cutting out small pieces of fabric one by one, they could create piles of fabric shapes by cutting multiple layers at the same time. While these mats are self-healing, meaning the cuts you make in them close right back up without leaving any surface evidence, they are definitely not self-cleaning. Thread and bits of fabric cover the surface after a cutting session, and oils from your hands and accidents from spilled drinks can mar the surface. Keep your cutting mat clean to avoid staining your expensive quilt fabrics.
Run a lint roller over the surface of your cutting mat every time you cut fabric. Small crumbs and bits of thread can get caught in the closed cuts, and can make your cutting surface bumpy and unstable if left behind. The lint roller will pick up all the loose bits of fabric and thread, readying your mat for the next cutting session.
Spray your cutting mat with a general household cleaner or apply a solution of dish-washing soap and water. Gently wipe off the mat with a clean sponge and dry it with a paper towel before storing it.
Spray the mat with the household cleaner and scrub it with a plastic scrubber for stubborn substances such as spilled soda or other food. A plastic scrubber will scrub off the dirt without marring the surface of your mat. Rinse your mat with clear water and dry it with a paper towel when clean.
Things You Will Need

Lint roller
Household cleaner or dish-washing soap
Sponge
Paper towel
Plastic scrubber
Tip
Store your cutting mat standing up to help keep it clean. Slide it behind a dresser or other large piece of furniture to keep it upright but out of the way.