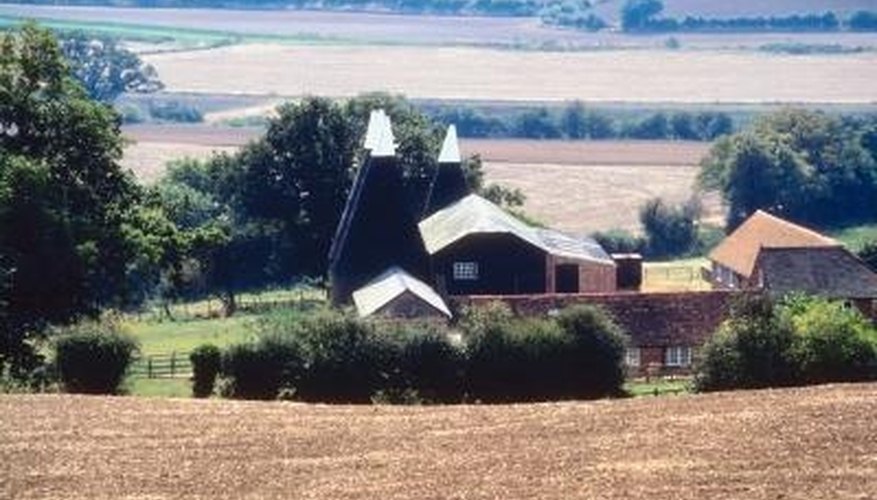 But as suburban and subdivision living exploded after World War II, ranch-style homes without porches became popular. There's usually not much to distinguish one ranch-style house from another. Adding a porch gives a house a distinctive touch, expands living space and creates an inviting opening. There are many options for adding a porch to a ranch-style home--the choice will depend on personal preference, budget, zoning and building regulations as well as available lot space. Consult home design and remodeling books for ideas and advice.
Check local building codes and regulations before starting your ranch-house porch. Some cities and residential areas have strict requirements about setbacks from streets, location of porches and even in some places the style of construction. Drive around the community to see what type of construction is used for porches and how they fit with ranch-style houses. Finally, decide on a budget--even if you do work yourself, adding a porch can be expensive.
Decide on size, style and type of construction. Most porches are at least partly covered, but you can build an open one. You can opt to put a porch across the front of the house or just as an entryway to the front door. Materials to support the roof can include masonry pillars, columns or wood posts. You can build a wooden porch or pour a concrete slab. You can add railings, steps and other adornments. Most of these decisions will depend on how you match the design of your existing ranch-style house, personal preference and budget.
Lay out the porch area if you're doing at least some of the work yourself. Use stakes and twine to mark the perimeter, and check distance from property lines. Measure the space carefully and check for any utility lines, tree roots or other impediments to digging foundations and footings. Remove any plants or landscaping in the way. Decide how your new porch will attach to the existing structure and how much you will have to alter the house--for example, by removing siding.
Build a foundation. If you're pouring a concrete slab, excavate the area and build forms. If you're using poured concrete walls or concrete blocks for foundation, you'll still have to dig footings, and with anything except solid concrete allow some air vents on the sides of the foundation. Once the foundation is in you can put in posts, columns or framing to hold a roof. Some ranch-style porches use steel posts, while others may use brick or masonry columns or a combination.
Roof the porch. Once a foundation and pillars or columns have been placed, add roof trusses or other roof framing, depending on the style of porch you planned. Try matching the existing roof line--you don't want an elaborate pitched roof in front of a flat-roofed ranch house. A full roof is not necessary; many ranch style houses have open porches or styles with just a small roof at the entryway.
Remember lighting. Not all porches must have lights, but most will. You may have to call in an electrician to run power from the house to the porch; in most areas, such work must be done by a licensed electrician. You can stick with a basic overhead light or put lights on porch columns or pillars. Just match the style of light to your house--ornate hanging fixtures, for example, may clash with a ranch house.
Things You Will Need

Tape measure
Design and building books
Perimeter stakes and twine
Hammer
Shovel (optional)
Concrete form boards (optional)
Tip
It is wise to check with an architect or designer when planning a major addition to any house. You also may wish to hire at least some professionals to help with your new porch.