Salton Iced Tea Maker Instructions
The Salton Iced Tea Maker makes two liters of iced tea or coffee. The water level indicator helps the user make perfectly brewed tea or coffee with little time or measurement. When the tea or coffee is properly prepared, the machine shuts off automatically. The end result is a delicious beverage filled to the top of a serving pitcher, which can be served immediately to friends and family.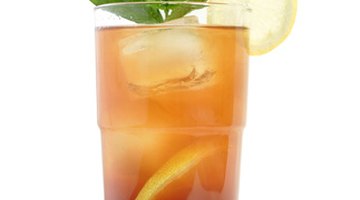 Step 1
Fill the carafe with water. Different water levels are marked for different amounts in cups.
Step 2
Pour the water into the brewing well.
Step 3
Put two large tea bags in the filter for medium strength tea. Put three bags for strong tea. Place a small coffee filter in the filter area and your desired amount of ground coffee if brewing iced coffee.
Step 4
Put desired additions in pitcher, such as ice, lemon wedges, milk or sugar.
Step 5
Flip the switch to "ON." Your tea or coffee will brew and turn off automatically when done.
Writer Bio
Michael Monet has been writing professionally since 2006. At the San Francisco School of the Arts, he studied under writers Octavio Solis and Michelle Tea, performed his work in Bay Area theaters and was published in literary journals such as "Paradox," "Umlaut" and "Transfer." Monet also studied creative writing at Eugene Lang College in New York and Mills College in Oakland.
Photo Credits
ice tea, isolated image by Tamara Kulikova from Fotolia.com
More Articles