How to Use a Sunbeam Electric Percolator
Electric percolators have been used for decades to make fresh coffee without boiling water or using a bulky coffee maker. Sunbeam electric percolators come in several makes and models, but all electric percolators work in basically the same way. The basic components are a coffee chamber and stainless steel filter. Many percolators have a removable power cord or a separate power base so they can double as a coffee server.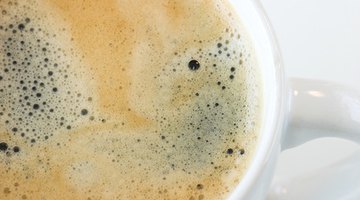 Step 1
Set the Sunbeam electric percolator on a flat surface and make sure the power cord is attached or the percolator is seated on the power base. Do not plug the percolator in yet.
Step 2
Remove the stainless steel coffee filter. On some models you'll need to unscrew the upper coffee chamber to access the filter. Other models will have a filter directly underneath the percolator lid.
Step 3
Fill the percolator with cold water. If your model has two chambers, the water goes in the bottom chamber. If your model has one chamber, pour the water directly into the chamber.
Step 4
Measure medium-fine espresso grind coffee into the stainless steel filter and pack it down.
Step 5
Place the filter back in the percolator. For two-chamber percolators, attach the top chamber over the filter. For single-chamber percolators, place the lid on over the filter. Your single-chamber percolator may also have a filter cover that goes on before the lid.
Step 6
Plug in the percolator and turn it on, if necessary. Many percolators automatically begin when plugged in and don't have a separate power button.
Step 7
Wait for the percolator to run through the coffee cycle and shut off, usually two minutes. You can remove the percolator from the power base or disconnect the power cord to use it as a coffee server.
Step 8
Remove the filter and throw away the used coffee grinds when the percolator is empty. Rinse or wash with mild dish soap to clean.
Tips
Always begin with cold water. Hot water can create too much pressure in the percolator when the heating element boils the water.
Warnings
Never fill your percolator past the fill line indicated on your machine. Overfilling can cause dangerous pressure buildup in the percolator.
Writer Bio
Aubrey Kerr is a writer and photographer. With a B.A. in media arts and public relations, she has helped small business owners design and implement online marketing campaigns since 2004. Her work appears on several websites including Salon.com and the Houston Chronicle.
Photo Credits
More Articles