History of Percolators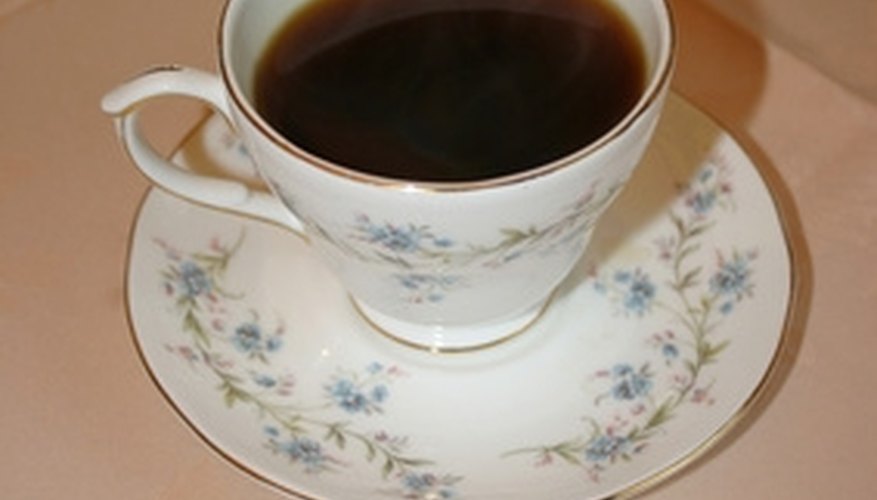 Vintage percolators made a consistent cup of coffee quickly, but the stove top version required watching to make sure the coffee didn't boil over. Once automatic drip coffeemakers became widely available in the 1970's, percolators fell out of use and many ended up in basements or yard sales.
In 1889, farmer Hanson Goodrich received a patent for the first percolator, a big improvement over large, cumbersome vacuum coffee makers or "cowboy coffee" or coffee grounds boiled in a pot. Percolator use increased during the 1930's and 1940's and percolators became a standard household item by the 1950's.
How to Make Percolated Coffee
Take the lid off the percolator pot and remove the coffee basket, but leave the stem in place. Measure for a full pot of coffee using a formula of 1 tbsp. freshly ground coffee for every cup of coffee up to the maximum cups for your percolator; spoon the coffee into the coffee basket and replace basket lid. Fill the percolator with water up to the maximum fill line marked on the stem. Return the filled coffee basket onto the stem in the percolator and cover with the percolator lid.
Place the percolator on the stove over low to medium heat. If you have an electric stove, use a heat diffuser to distribute the heat evenly under the pot. Heat until you see the coffee start perking through the clear knob on the lid. Turn the heat down to low and percolate for 4 to 6 minutes at a simmer. Watch the glass knob to for the perking to stop, then remove from the heat.
For an electric coffee pot, follow the same steps to set up the coffee and water in the percolator, but instead of heating on the stove, just plug in the percolator. It will automatically percolate the coffee with no watching required. After percolating, remove the coffee basket and grounds for the best flavor.
Percolator Care and Maintenance
Percolators need a daily rinsing and cleaning. Be sure to empty out the used grounds and wash the inside parts and the pot with soap and water. Wash the insides of an electric percolator, but do not immerse the pot in water; simply wash and rinse the interior, then wipe the exterior. Dry percolators well before storing for long periods to prevent mold and mildew and never leave coffee and used grounds inside the percolator for long periods of time.
Finding Vintage Percolators
You may find vintage percolators, such as a Corelle percolator popular in the 1970's, at estate sales, yard sales, and vintage shops. For a highly collectible percolator, online auctions such as eBay, or shops specializing in Mid-Century Modern collectibles from the mid-1940's through the 1960's have better quality percolators for sale.