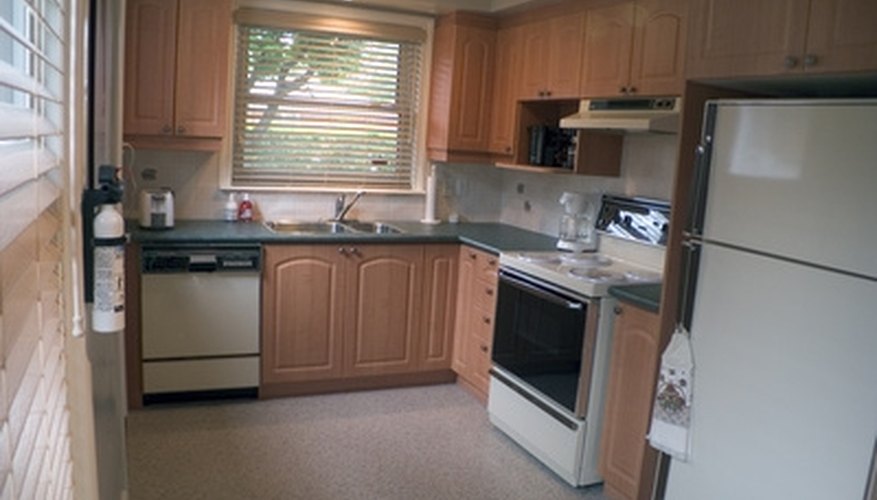 Simply painting your cabinets is a quick way to change your kitchen's appearance as well, but sometimes paint simply isn't enough. When you are stuck with flat, boring cabinet doors, add dimension by simply adding regular wood trim found at any hardware store. Add a coat of paint to create a dramatic kitchen remodel that looks expensive without breaking the bank.
Remove the cabinet doors from the cabinet bases. Be sure to mark the cabinet doors and bases so you know how to reassemble the doors. Use a pencil or painter's tape to mark the cabinets.
Remove hardware from the doors. Keep the hardware, including the screws, in a sealed plastic bag to avoid losing any important pieces.
Measure and mark the placement of your trim on all cabinets. Measure carefully to ensure accurate placement on all cabinets. Make sure your trim does not interfere with the door handle placement. Trim can be placed in a rectangle anywhere with the cabinet door, so try different placements until you are pleased with the size and scale, which will vary according to the trim size, cabinet size and decor of your kitchen. If you are feeling ambitious, place trim into multiple rectangles or squares per cabinet door.
Measure your trim pieces to fit your cabinet fronts.
Mark the 45-degree angles for the corners of the trim pieces with a pencil. Remember that the top and bottom corners should angle together so the inside of the trim piece is shorter than the outside.
Cut your trim pieces to size with a miter saw, again taking care to cut your angles properly.
Sand the cut edges of your trim lightly.
Apply wood glue to the back of your trim and press onto the marked places on the cabinet doors. Let dry according to glue directions.
Squirt caulk into the inside and outside trim edges to seal. Let dry according to product directions.
Lay the cabinet door outside on a tarp on a flat surface. If you are painting both sides of your cabinets, plan to paint the inside first, let dry and then flip to paint the outside so you avoid getting any marks on the outside surfaces.
Apply primer to your cabinet doors either with a brush or with a sprayer with smooth, even strokes. Let dry.
Apply the paint to the cabinet door, again using either a brush or a sprayer and applying smoothly and evenly. Let dry and add a second coat if desired.
Replace the door hardware, and re-hang the doors onto your kitchen cabinets.
Things You Will Need

Wood trim
Wood glue
Caulk
Primer
Paint
Brushes or sprayer
Tips
Add even more interest with ready-made wood decorations found near the trim at hardware or home improvement stores. Glue these on while you are gluing your trim and then paint.

Paint your trim a different color than the cabinet door for extra depth on your flat cabinets.