How to Harvest Poplar Bark Siding
Poplar bark shingles not only add natural, heavy insulation to your house, they give your place the look of a log cabin. An entirely wooden exterior negates the need for painting or installing siding. Instead, you have a rough, rustic-chic look for your home that is as practical as it is eye-catching. Though bark shingles can be expensive commercially, harvesting your own is a viable option for those living in wooded areas.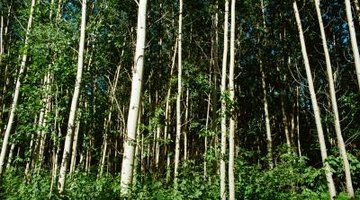 Step 1
Choose bark from poplar trees already marked to be cut down. Removing bark from healthy, thriving trees could harm them enough that they die prematurely. Most lumber companies mark trees with a spray paint "X" before removal.
Step 2
Draw a straight, horizontal line across the bark of a poplar tree with your electric handsaw. Score only the very top of the bark at first. Keep scoring gently until you see the very light inner wood showing through. At this point, cut two vertical lines and a horizontal line to complete a single, rectangular shingle. They should be about 1 foot by 18 inches.
Step 3
Slip the tip of your sharp knife under the edge of the shingle. Slide the knife around the perimeter of the shingle, loosening the bark from the tree. Gently peel the shingle from the tree and place it in a cardboard box with the inner bark facing down.
Step 4
Cover the first shingle with a layer of newspaper. Continue harvesting as many shingles as possible from one tree before moving to another. Stack them in your box with newspaper between them.
Step 5
Lay the shingles out in a cool, dry place like a basement or garage. Place them on layers of newspaper. Place newspaper on top of each shingle and stack a few bricks across the center of the shingle. As the shingles dry, the bricks will flatten them. Let them dry for about three weeks.