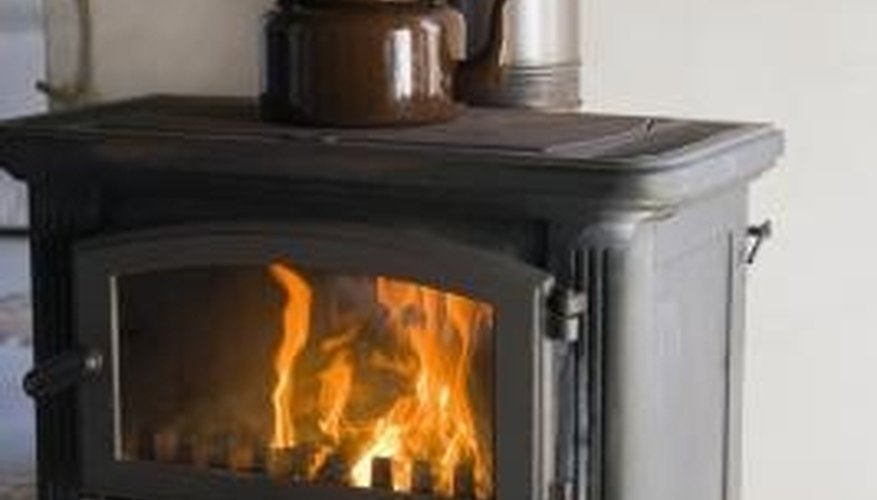 Once you master the learning curve, the tasks involved with lighting and maintaining a good fire become part of the daily household routine. Many wood stove owners consider the work involved to be a small price to pay for the deep, satisfying warmth it produces.
Open the damper so the smoke that occurs during the start-up process will go directly up the chimney rather than entering the house. Keep the ash pan door is closed. Gather everything you'll need before you begin so you can stay nearby to monitor the stove.
Place crumpled paper in the bottom of the stove. Paper towels or newspapers are suitable for this purpose. Place kindling (small pieces of wood) on top of the paper. Kindling should be about the diameter of your finger. Lay the pieces in a criss-cross pattern that facilitates air flow. Add two or three crumpled papers on top of the kindling.
Make a cone from a piece of paper. Light the open end with a match and hold it at the chimney opening so that the smoke goes up the chimney. By warming the flue, you will create a better draft.
Drop the cone onto the paper. Use a match or lighter to ignite the crumpled paper. Close the stove door and wait for the kindling to catch fire and begin to burn well. Add larger pieces of kindling to the fire to keep it going. The goal is to build a bed of embers 2 to 3 inches deep.
Add two or three small logs. Be careful not to smother the fire by adding too many logs at a time.
Adjust the damper to keep the fire burning steadily. It may take some trial and error to find the best setting.
Add new logs as needed. Maintaining a small, hot fire will help prevent creosote buildup in the vent pipe. Creosote is a shiny black substance that results from an accumulation of gases that condense on their way out of the chimney. If unchecked, creosote can cause a dangerous chimney fire.
Remove the ashes by opening the ash door and removing the ash pan. Wear protective gloves to avoid burning your hands, if the fire is only recently out, and close the ash door while you dispose of the ashes in a metal container with a close-fitting lid. After you've replaced the pan, check that the door is tightly closed.
Things You Will Need

Crumpled paper
Kindling
Matches or lighter
Small logs
Large logs
Fire-protective gloves
Metal container with lid
Tips
Install a stack thermometer on the stove flue and try to maintain a temperature between 300 and 400 degrees Fahrenheit.

Wood stoves, like any heating appliance, will vary by brand. Read your operating manual carefully to learn about any special features or additional steps that you need to take to keep your stove in good condition.