How to Use the Bissell Carpet Cleaner Model 1671-Y
Bissell manufactures many vacuums and carpet cleaning machines. The 1671 and 1672 series are Bissell's Big Green Deep Cleaner models, which are multi-purpose cleaners. With this machine you can deep clean your carpets, upholstery or bare floors. Following Bissell's cleaning instructions is key in getting the most out of your Bissell Big Green Deep Cleaner.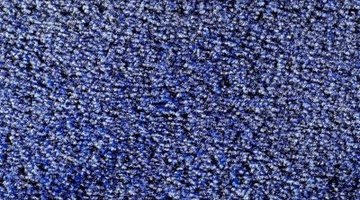 Vacuum your carpet or upholstery before using your Bissell cleaner. If you are using the Bissell cleaner on your baser floor, sweep first.

Remove the measuring cup that is on top of the filling cavity and pour 2 gallons of hot water in the filling cavity.

Fill the measuring cup with 10 oz. of a Bissell cleaning fluid. This depends on what you are cleaning. You must use Bissell floor cleaning fluid for a bare floor and a carpet cleaning fluid for carpets. Add the contents of the measuring cup to the filling cavity and replace the cup on top of the filling cavity.

Plug your Bissell Big Green Deep Cleaner into a grounded outlet. Press both the vacuum/suction switch and the pump/spray switch to the on position.

Pull the trigger and push the floor nozzle to release the water and cleaner on your floor. Release the trigger and go back over the area to begin suctioning up the water, cleaner and dirt. Start at the farthest end of the room and work your way back to the exit. If you are cleaning a bare floor, you must first pop the bare floor attachment on the end of the floor nozzle.

Detach the wands from the trigger handle and attach an upholstery cleaning nozzle instead to switch to cleaning your sofa's and other upholstery. Pull the trigger to release the water and cleaning fluid and release to suck up water, dirt and cleaning fluid back up.

Turn the vacuum/suction and pump/spray switches to the off position and unplug from the grounded outlet.
References
Tips
Pre-treat any heavily stained areas and wait 10 minutes before cleaning.
Bissell recommends working in 3-foot-by-4-foot sections.
Always empty the dirty water as soon as you have finished using the Bissell Big Green Deep Cleaning Machine.
Warnings
Dry your hands before plugging or unplugging your Bissell Big Green Carpet Cleaner to avoid shock.
Writer Bio
Alicia Bodine has been a professional writer for 13 years. She has produced thousands of articles for online publications such as Demand Studios, GoBankingRates and WiseGeek. Bodine is passionate about gardening, travel, education and finance. She has received awards for being a top content producer.
Photo Credits
NA/AbleStock.com/Getty Images
More Articles