How to Paint Walls Shabby Chic
You've got the old armoire, the chipped, painted iron bed frame, the curtains made from your grandma's lace tablecloth -- now you need to tackle the walls and spread that faux worn and fabulous shabbiness from floor to ceiling. Distress the walls the same way that you aged the furniture, but give it a light touch. Shabby is all about romantic and faded, emphasis on the faded. No red enameled walls in your guest room or kitchen.
White for the Win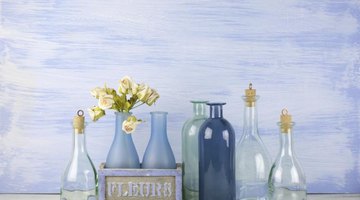 Whitewash, lime wash, oyster, vanilla, chalk white, off-white, linen and antique white -- your choices are infinite, as long as you stick to white. Slap that paint on every-which-way to give it some uneven texture and prevent it from looking too new and neat. Apply some craquelure glaze to sections of the wall over the old paint. As soon as you whitewash over it, the finish will craze and crack like very old paint, revealing traces of the layers of paint beneath. Stick to matte finish for the powdery plaster look of old worn paint. And don't worry about a little wear and soil -- your lively household smudges and stains will add authenticity to the look of the walls.
Shabby Shades
Bleached, faded, washed-out, pastel -- you can choose any color for your shabby walls as long as it's a pastel. The barest breath of pink or apricot, mint or hardly visible yellow-green, cloud covered sky-blue, a mere whisper of lilac or lavender, whipped butter the shade of heavy cream -- choose from a rainbow of ghostly tints to decorate shabby-chic-style walls. But don't overlook neutrals when you want to tone down the feminine and the romantic. The gray of pale smoke and the warm tint of beach sand can look as old as a vintage photograph, especially when framed with distressed white or off-white molding, baseboards and trim. Sponge or color-wash the walls for "realistic" faux texture.
Magical Mixology
If you're not averse to a little risk, dump a container of acrylic craft paint in a large vat of white or off-white water-based paint. Stir it to blend the paint into the shade you want for the wall, but don't over-mix. As you crisscross brush the paint on the wall, random areas with bits of extra pigment from the added color will "bloom" a bit darker, adding uneven color and the illusion of texture, stains or weathering to the wall. Don't paint over the color blooms to even them out -- you want the unexpected areas of deeper intensity to add interest and character to the wall -- shabby walls should hint at a story, even if it's just evidence of an old leaky roof.
Wax on Walls
Wainscoting whitewashes right into a shabby-chic-style finish using an old trick with a candlestick. Rub a white candle or lump of wax over corners, edges or any detail of the wood that is likely to be worn over time, or is raised. When you whitewash the wainscoting, the waxed sections will repel the paint. After the paint dries, lightly rub away the wax, revealing some of the wood beneath it. The trick works on crown molding, baseboards, carved or paneled doors and window frames as well.
References
Resources
Writer Bio
Benna Crawford has been a journalist and New York-based writer since 1997. Her work has appeared in USA Today, the San Francisco Chronicle, The New York Times, and in professional journals and trade publications. Crawford has a degree in theater, is a certified Prana Yoga instructor, and writes about fitness, performing and decorative arts, culture, sports, business and education .
Photo Credits
Svetl/iStock/Getty Images
More Articles