How to Replace the Capacitor on an AC Unit
When a capacitor goes bad it will cause the AC unit to work harder and use more electricity. A bad capacitor can also make the AC unit run hot and put out little to no cold air. This can cause the motor in the AC unit to burn up if it's not noticed and replaced in time. Changing a bad capacitor can save the motor of your AC unit--and save you money.
Preparation and Installation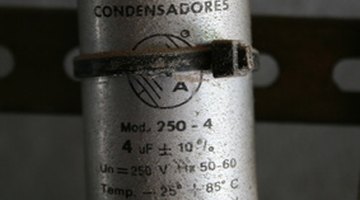 Locate the switch in the breaker box that powers your AC unit and shut the power off to the unit, or pull the breaker (disconnect) located just above the AC unit on the outside to disconnect the power. Test the unit's condenser with a voltage meter to make sure there's no power to the unit. Find the access panel to your unit, which is the one with the electrical warnings label.

Open the access panel by loosening the two screws at the top and removing the two screws from the bottom with a screwdriver. Write down on a piece of paper the performance or technical data on the old capacitor, such as tolerance, load voltage and capacitance. Shop for a replacement at a local heating and cooling dealer or local hardware store, and check that the technical data you obtained from the old capacitor matches, rather than the shape and size.

Draw a picture outlining the wiring of the old capacitor for reference to go by when wiring the new capacitor. With a screwdriver, remove the screws to the mount that is holding the capacitor in place. Disconnect the wiring from the capacitor and wire up the new one using your picture outline.

Mount the new capacitor in with a mounting strap if the old mount doesn't work. Check the wiring once again to make sure all the connections are in their proper place and tight. Tighten the connections using a pair of crimpers, if needed. Go inside to the thermostat and turn it on as if you were going to cool the house.

Return outside to the unit and listen for the contactor (a humming or buzzing sound), which may take a minute or two because some have a delay. Put the cover back on and secure with the screws previously removed. Turn the breaker switch back on in the breaker box, or reconnect the disconnect above the unit on the outside to turn the power back on, and the AC will start to run.
References
Warnings
Always check and recheck to make sure that the power is off when working with electricity, as failing to do so can be fatal.
Photo Credits
condensadores image by Vanesa Boullosa Lopez from Fotolia.com
More Articles