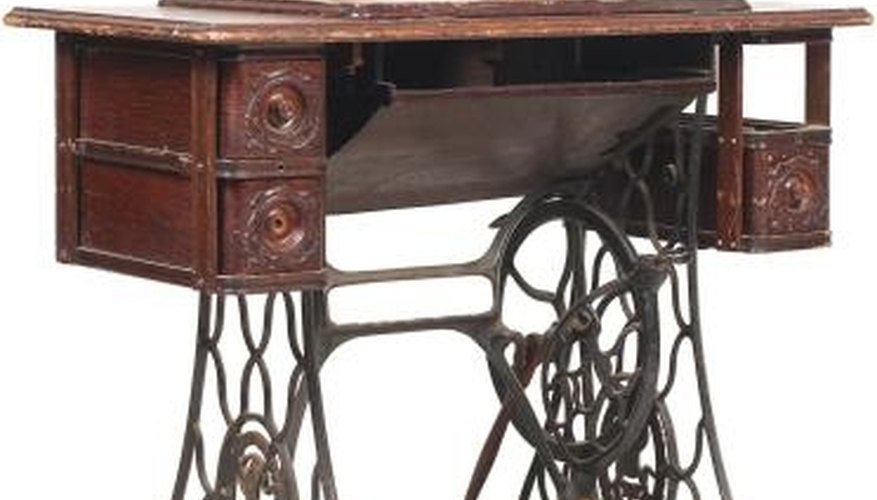 Quilters find treadle machines useful for their better speed control. Modern treadle machines are available, but are rather expensive. It can be more cost-effective to modify an existing modern machine to be operated by treadle. Most modern machines have an electrically-powered motor driving a belt that rotates the drive wheel on the main drive shaft. To convert the machine to treadle operation, the drive wheel must instead be driven by the treadle.
Place the sewing machine on the treadle table top. It is not necessary to permanently attach the machine to the table.
Measure the distance from surface of the table to the top of the sewing machine's drive wheel. This is the wheel you can rotate by hand to raise or lower the needle wheel and is called a balance wheel or hand wheel by some manufacturers.
Measure the distance from the table top through the slim hole in the table top to the bottom of the treadle wheel. This is the wheel that is turned by movement of the treadle pedal by a metal push rod. The treadle wheel is grooved to accommodate the belt. There should already be a slim oval slot in the table top to accommodate the belt. If not, use a jigsaw to cut a slot approximately twice the width of your machine's drive wheel directly above the treadle wheel and sand it until smooth.
Add the two measurements and multiply by 2 1/2. This will be the approximate length of your belt.
Sand a shallow groove approximately one inch wide around the sewing machine's drive wheel with a narrow piece of sandpaper. This will help the new drive belt grip the wheel without slipping.
Place the belt in the groove of the treadle wheel and bring it up through the belt slot to the top of the sewing machine's drive wheel. Tighten it so that it will fit snugly over the sanded line in the drive wheel. Cut off any excess and attach the two parts together with the aluminum connector.
Place the finished belt around the treadle wheel groove, pull it up through the belt slot and slide it onto the drive wheel.
Things You Will Need

Sewing machine
Sewing table with treadle
3/16 inch outside diameter round hollow-core urethane belt
Aluminum connector
Sandpaper
Measuring tape
Tips
Urethane belting stretches less and grips better than leather. You can adjust the length of the belt by pulling it apart, snipping off the end and pushing the connector back in to reattach the ends.

You can also use the same table for another machine, such as a serger. Create a belt to fit each machine, and move them on and off the table as needed.

This modification allows you to plug the machine in to use its light. Move the foot pedal away from under the machine so nothing will accidentally press on it.