How to Convert Tiny 1950s Closets
Following World War II, during the baby boom, homes were designed to be affordable. "Ranch" style houses were a popular design that featured two or three bedrooms, one bathroom, a living room and a kitchen/dining room. Back in the 1950s closets were not thought of with as much high regard as they are today, as bedroom space and cost efficiency were primary concerns. Tiny closets found in kitchens, hallways and bedrooms were more of an afterthought for many architects than a consideration for storage. Making them valuable storage places today can be managed without too much structural change.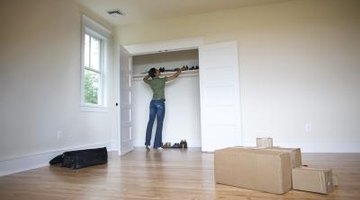 Wire a closet tucked in a corner of a kitchen with outlets for small appliances. Replace the three cleated shelves upon which canisters and canned goods were expected to be stored with adjustable shelving or pull-out shelving upon which small appliances, such as blenders, food processors, small toaster ovens can sit and be plugged in. Install a tilt-out or sliding trash can to replace the wasted space that the removable trash can was previously allotted.

Remove the rod from the front hall closet and replace it with a closet organizer, which will divide the closet, so that less space is given for the long-hanging coats and will allow for adjustable shelving that can store other outerwear, such as gloves and hats. It may also have an adjustable rod to combine a section for short jackets with a lower shelf for boots.

Remove the fixed three shelves and cleats from the linen closet and replace with adjustable shelving for more versatile storage. Add baskets for small item storage.

Redesign small master bedroom closets to accommodate more stored items. Modern ladies' fashion does not include as many long dresses as it did in the 1950s, so the rod height should no longer be fixed, and the long-hanging area can be condensed, but should be adjustable to accommodate the height at which the clothing should be hung. The closet should be divided so that the short hanging clothes can be placed in another section. Fill spaces with adjustable storage shelves and slanted shoe shelves with toe stops, or install drawers for lingerie or clothing that can't be hung. Install a three-inch deep velvet-lined drawer with 100 percent extension for jewelry. Add a tilt-out laundry hamper if there is enough room in the tiny closet.

Install adjustable shelving and rods in children's bedrooms. Pay particular attention to the rod height so that the children can reach their clothes with ease. Install a tilt-out hamper if there is room. Place shelving and baskets at levels that will accommodate children's articles for storage.
References
Writer Bio
Ann LaPan travels exuberantly in body and mind via planes, trains, automobiles and superb literature. A webmaster, website designer, graphic artist, accountant and musician (Jill of all trades, master of a few), she writes Today's Horoscope for Shooting Star Astrology.com.
Photo Credits
David Sacks/Lifesize/Getty Images
More Articles