How to Collage a Tabletop
Instead of getting rid of that perfectly good table with a top that has seen better days, add an artistic touch to the tabletop by decoupaging a collage onto the surface. Derived from the French word decouper, decoupage literally means to "cut out," which fits, since you glue, lacquer or varnish paper or fabric cutouts onto a surface. Besides the benefit of creating something entirely original -- that no one else has -- you get green brownie points for re-purposing rather than adding another piece of furniture to a landfill.
The Theme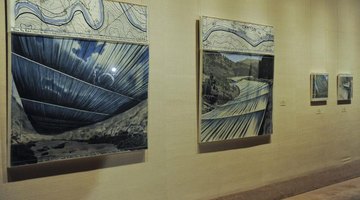 A collage by definition refers to a backing covered with different items such as antique invoices, fall leaves, ribbons, fabrics or cutouts of artwork or photographs taken from magazines. Before you begin, decide on a theme: nature, art, old-time movies or whatever works for you. For example, a tabletop covered with film-processed photos of favorite family vacations can make a lively game table in a family room. You can also add a couple of game boards to your collage to make a gaming table, or you can add a collage to a bar top.
The Layout
After you've decided on your theme, avoid adding items with straight lines; instead, cut the items along their borders to soften their appearance, and overlap them onto other cut-out pieces for a fully collaged tabletop or bar top. Set a large single piece of butcher paper cut to fit the tabletop on a worktable and arrange your chosen items atop it in the same arrangement as you want them to appear on the tabletop, paying attention to color, contrast and complementary shapes. Let it sit for a few days, making adjustments as needed until you like the way the collage looks.
The Assembly
Paint the backs of the individual items with white glue and stick them to an already-cleaned tabletop in the order you had them on the butcher paper. Work from the middle out, or along the border, whatever works for the layout you created. Carefully smooth them with a flat carpenter's pencil or another soft wood item to remove any air bubbles. After covering the entire tabletop with your collage, let the glue dry. Re-glue any curling edges, as needed.
The Finish
Before covering the collage with a finish coat, first test the chosen finish atop a small leftover cut-out item from your collage atop a piece of cardboard. This ensures that the chosen finish doesn't affect the film finish of photos or make the colors run, for example. If the chosen finish doesn't work, try a different product until you find one that works, but most water-based varnishes won't damage photos or artwork. Cover the entire tabletop with multiple coats of the finish, letting each coat dry before applying another. Let it thoroughly dry and cure before putting the table to use, as recommended by the product's label.
Check out this related video from Homesteady on Youtube.
References
Resources
Writer Bio
As a native Californian, artist, journalist and published author, Laurie Brenner began writing professionally in 1975. She has written for newspapers, magazines, online publications and sites. Brenner graduated from San Diego's Coleman College.
Photo Credits
Riccardo S. Savi/Getty Images Entertainment/Getty Images
More Articles