How to Protect a Mattress From Bed-Wetting
If you or someone in your family suffers from bed-wetting, there are measures you can take to protect the mattress. While bed wetters often use protective undergarments, they can fail to provide sufficient protection for the bed wetter, sheets and mattress. Though bed-wetting treatments such as medication and bed-wetting alarms exist, they might not be appropriate for the bed wetter. Fortunately, less-invasive and more effective options are available to help keep your mattress dry even if bed-wetting occurs.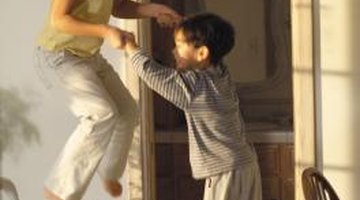 Step 1
Cover the mattress with a form of mattress protection. There are many varieties on the market, including vinyl fitted covers and encasements; premium (urethane) fitted covers and encasements; and waterproof mattress pads.
Vinyl fitted covers go over your mattress like a fitted bed sheet to provide a waterproof barrier between the mattress and the wetting. Zippered vinyl encasements keep moisture away and prevent leakage and overflow of urine by encasing and protecting the entire mattress with vinyl, according to Renee Mercer, MSN, CPNP, a pediatric nurse practitioner. Encasements also protect your whole mattress from the development of mildew and mold, odors, and allergens, which fitted covers do not.
An alternative to vinyl products are "premium" fitted covers and encasements made of a special waterproof and breathable material called urethane.
Lastly, waterproof mattress pads fit over a mattress like regular mattress pads except they are designed to absorb fluids and protect the mattress from getting wet. These pads are ideal for severe bed wetters, as some pads can absorb up to 6 cups of urine. They come in a range of thicknesses and are made from either vinyl, urethane or both types of material.
Step 2
Place overlay pads on top of the fitted bed sheet, which goes over the vinyl protector or mattress pad.
Overlay pads, or underpads, are pieces of fabric that absorb urine. These pads come in both disposable and reusable varieties. Because overlay pads are designed to protect your bed sheets, they also protect the mattress. Overlay pads can be used separately, depending on how much protection is needed. For example, since children move a lot in their sleep, they may fall off of the underpad; therefore, it is best to use both forms of protection.
Step 3
Wash and dry premium covers, premium encasements, waterproof mattress pads and washable overlay pads. Wipe up fluids from the surface of vinyl fitted covers and encasements with a damp cloth and soap or disinfectant. Throw away soiled disposable overlay pads.
Check out this related video.
References
Resources
Writer Bio
Nancy Chen is a professional writer and owner of a pet care business. She is also certified to teach English to middle and secondary school students. Chen holds a bachelor's degree in English and comparative religions from Tufts University, as well as a Master of Theological Studies from Harvard University.
Photo Credits
Photodisc/Photodisc/Getty Images
More Articles