How to Recycle Wood in Atlanta, Georgia
Leftover wood from a remodel, or pallets from a container shipment can be messy. While wood waste can take awhile to break down at the landfill, it can be recycled at a wood recycling center and turned into something more useful. Recycling the wood is expensive than putting it out on the curb for pickup and more environmentally friendly. If the wood is reusable, you can donate it to others in need. There are many such centers to donate your waste wood in Atlanta.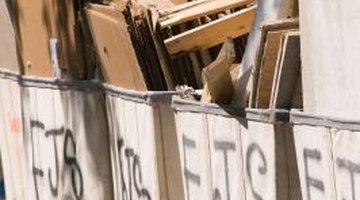 Step 1
Check to see that your wood is recyclable. Wood recycling centers will accept soft and hard woods, boxes and packing cases, plywood, pallets, chipboard, laminates, fiberboard and hardboard. Recycling centers will not accept wood containing copper, chrome or arsenate.
Step 2
Decide whether your wood products might be reusable by someone else. This includes plywood and lumber. If it is, contact the Atlanta Community Toolbank by phone at 404-880-0054 or drop your wood off at 55 Ormand Street. FCS Urban Ministries at 750 Glenwood Street will also accept materials donations; they can be reached at 404-627-4304. Otherwise, proceed to Step 3.
Step 3
Contact a wood recycling center and ask about pickup options, or deliver the wood to the center yourself. Georgia Pallet Operations has a wood recycling facility that can be visited at 30337-51014281 Best Road, or called at 404-768-1157. AAA Recycling at 520 Wharton Circle SW also accepts wood recycling and can be reached by calling 404-696-2101.
Step 4
Take your wood to the recycling center, or neatly pile it in an accessible location and wait for pickup.
References
Resources
Writer Bio
Darby Stevenson began writing in 1997 for his high-school newspaper, the "Alsea Valley Voice," which won him statewide awards for Best Feature Article and Best Personality Interview. He holds a Bachelor of Arts in international studies and a Bachelor of Arts in religious studies from the University of Oregon.
Photo Credits
Jupiterimages/Photos.com/Getty Images
More Articles