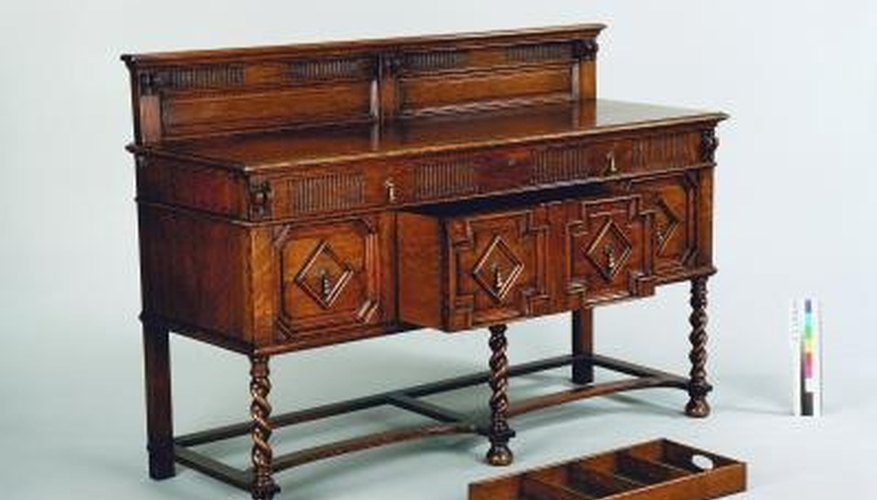 Decorating a sideboard so that it remains functional as well as attractive is not difficult if you stay true to the original purpose. This type of furniture often has a wide drawer beneath the flat surface. It is surrounded by cabinets or drawers to store dishes, linens and other paraphernalia for the dining room.
Hang a large framed picture, a mirror or other artwork on the wall at the center of the sideboard. This adds a focal point to the long space, creates balance in the room and draws the eye to the sideboard.
Add smaller framed pictures, wall scones or other wall decor around the large artwork. This helps balance the focal point over the long sideboard and creates unity in the space. Use frames on the smaller picture that are similar to or coordinate well with the focal point.
Place a lamp, candelabra, a tall vase, a pair of decorative candlesticks or other tall objects to draw attention to the sideboard. Often, it gets hidden behind the dining room table and seems to disappear. Use decor of different heights for an asymmetrical shape to provide interest.
Set a footed bowl with fresh or faux magnolias in it to create an old-fashioned ambience on your sideboard. Placing it in the center helps break up the long space. A silver teapot set adds a formal or Victorian touch to this dining room area. Placing a contemporary sculpture in the center of the sideboard adds a modern, eclectic appeal to the room.
Things You Will Need

Large framed picture, mirror or other artwork
Smaller framed pictures, wall sconces or wall decor
Tall lamp, candelabra, a tall vase, a pair of decorative candlesticks or other tall objects
Footed bowl with magnolias
Silver teapot set
Sculpture
Tips
Avoid clutter on your long sideboard. This detracts from the beauty of the furniture piece and makes it look too busy or cramped.

Leave a space of approximately 3 feet between the sideboard and other furniture. This creates a pathway or provides room for a person to push his chair back from the dining table to exit comfortably.

Place objects on the actual sideboard that can be removed easily when hosting a holiday celebration or a buffet-style dinner.