How to Cut a Metal Flue Pipe
A flue is attached to a chimney or wood stove to vent smoke outside and keep it from escaping into the house. Flue pipes are typically made of metal or aluminum, which is hard to cut without the right tools and technique. However, a properly cut flue pipe is crucial to the safe operation of your fireplace or wood stove. It is important to cut flue pipes straight so they can connect to each other correctly.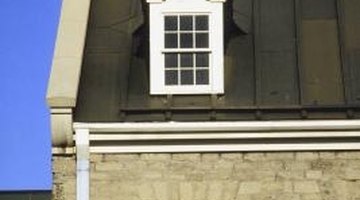 Measure the flue pipe with the tape measure. Mark the pipe with the marker at the length you must cut it.

Load the metal-cutting saw blade on the miter saw. Do not attempt to cut with any other type of blade or your will damage the flue. You can buy a metal-cutting saw blade at most hardware stores; they are commonly labeled "Non-Ferrous Metal Cutting Saw Blade."

Place the flue pipe into the miter saw. Line up the mark on the flue pipe with the center of the saw blade. Have an assistant hold the flue in place by the end of the flue. The assistant has to hold the opposite end of the pipe so as to hold the pipe straight and avoid getting cut by the blade. If the flue pipe is less than one foot long, you can hold it yourself as you cut it with your other hand.

Turn on the miter saw and slowly cut through the flue pipe as your assistant holds the pipe in straight.

Pull out the flue pipe and measure it with your tape measure to make sure it was cut to the right size.
Warnings
Always keep your hands out of the way of the saw blade while it is cutting. Wear safety goggles to protect your eyes.
Writer Bio
Louis Gutierrez began writing in 2010 for various websites, specializing in real estate, construction and electronics. He has over 10 years experience running and operating various successful businesses in these fields and holds a Bachelor of Arts in business administration, graduating magna cum laude from Florida International University.
Photo Credits
NA/AbleStock.com/Getty Images
More Articles