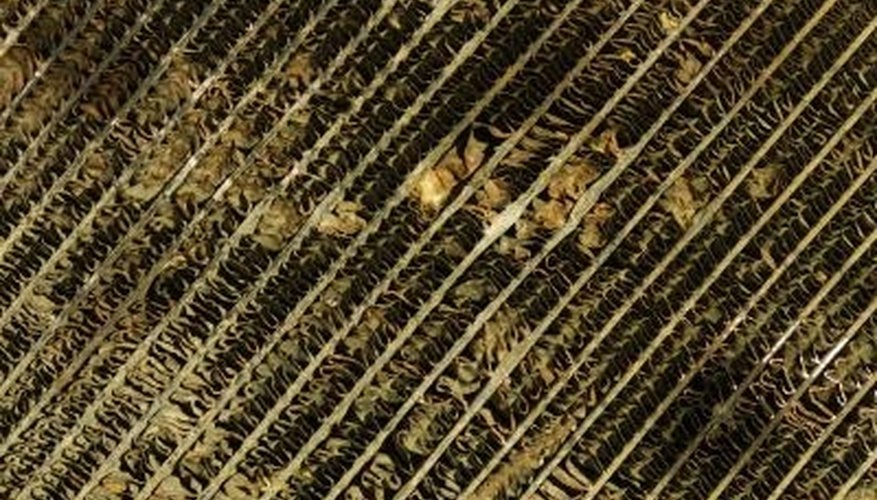 Over time, dirt can build up in the fins of the coil, which resembles a car radiator; as a result, ice can build up, cooling can slow down, and the system will eventually turn itself off. When this happens, the ice melts, and if the drain tube is also clogged, you will get unwanted leakage of water.
Turn off the air conditioning system and locate the evaporator coil. This is generally located inside your furnace or air handling unit, and should have a labeled maintenance hatch.
Using a hair dryer, heat the coil to melt any ice build-up.
Examine the coil and its fins for dirt or debris. If dirt or other clogging material is found, clean with a mild cleaning agent and a soft bristled brush to remove contaminants from it. Air must be allowed to flow through this coil freely.
Look directly under the evaporator coil and locate the drain pan. Evaporator coils naturally condensate and will drip water much like how a cold glass of water develops moisture on its surfaces. Pour some commercial drain cleaner into the drain pan and ensure it drains properly from the other end of the tube. These tubes are generally routed into a floor drain of the basement of the house. Over time, debris may build up in the tube and will block the drainage of water that drips off the evaporator coil.
Replace the tube if the drain cleaner does not clear it. Remove the tube and take it to your local hardware store to get a replacement. Re-route the new tube in the same fashion as the one you removed. You may also want to check and replace, if necessary, the air conditioner filter, which is meant to keep such debris from building up in the coil.
Things You Will Need

Hair dryer
Drain cleaner
Cleaning products
Soft brush