Malm Bedside Table Instructions
The Malm Bedside Table is from Swedish style furnishing giant IKEA. It mounts against the wall next to a bed and has shelves for magazines and books, as well as a deep pull-out drawer. The Malm bed requires a few tools and steps but in the end you will have a sleek attractive addition to your bedroom furnishings.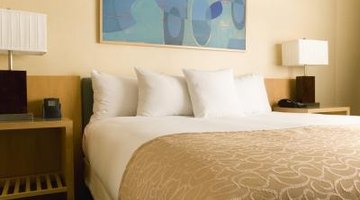 Attach the magazine shelf unit to the main wall of the table. You will need the hammer and Phillips screwdriver in this step. To connect the shelf, use the included wooden dowels, screws and metal inserts from your accessory package. The shelf is in two pieces, one for the bottom shelf and another for the front of the shelf. Attach these together at an "L" angle then attach this to the table wall.

Assemble the upper drawer and attach to the wall. Using the Phillips screwdriver, attach the drawer rollers to the inside of the drawer walls first. Then use the wooden dowels to assemble the front wall and two sides together to form a block shaped "u." Pop the short screws into the cut out holes and use the straight slot screwdriver to attach the upper drawer to the table wall.

Attach the metal plates that will hold the lower drawer in place. Using the included Allen wrench, screw these plates into the roller mechanism of the upper drawer. These plates will hold the drawer unit and allow it to slide easily back and forth in the drawer mechanism unit. Slide the drawer in place.

Choose if you want to attach the drawer to your bed. If you have a wooden frame with a edge that will hold the drawer, position the metal plates on your bed frame where you want the table to attach. With the plates as a guide, mark where the screws will go with a hole punch.

Stand the table up at the position you want it. Using the attachment holes in the bed table wall, punch start holes in your wall. Use the Phillips screwdriver to finish attaching screws through these holes.

Attach the bed table to your bed frame. If you elected to attach the bed table to your wooden bed frame, screw the metal plates positioned in step four. Side your bed frame into position and attach the bed table.
References
Tips
The bed table is designed to best fit the Malm bed frame.
For the bed table to better complement your bedroom furniture you might want to purchase other parts of the Malm furniture series.
Writer Bio
Spencer Hope Davis has been covering topics such as work balance, travel and health since 2001. An alumna of Cleveland State University and Kent State University, Davis earned a bachelor's degree in sociology and a master's degree in justice studies.
Photo Credits
Jupiterimages/Comstock/Getty Images
More Articles