How to Install Handrails on a Wheelchair Ramp
Installing handrails on wheelchair ramps makes it easier for users to get up the ramp, especially on steep or long ramps. The American Disability Act (ADA) requires that any ramp on commercial property that rises more than 6 inches, or extends more than 6 feet, must have handrails on both sides. The tops of the handrails should be between 34 and 38 inches above the surface of the ramp. If children will be using the ramps, install a second set of rails 20 inches from the top of the ramp surface.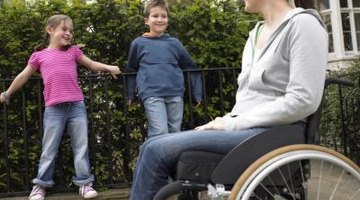 Measure the length of the handrail needed on each side of the ramp.

Examine the ramp location to see what materials and tools you will need. If you can attach the handrails to a wall, you will need to buy steel mounting brackets. If one or both handrails will be freestanding, you will need to figure out how you will secure the railing supports to the ground or ramp. The requirements for tools and equipment will depend on the specific needs of your location.

Obtain the proper lengths of handrail and other materials you will need. If you will use a local carpenter or machine shop to build a freestanding railing, take them your measurements.

Apply any wall-mounted handrails to the wall using steel mounting brackets and screws. Leave 1 1/2 inches of space between the walls and the rails. Make sure the rails are secure and do not rotate. Screw the brackets into the wall studs to make sure they can support the weight of whoever uses them.

Install any freestanding handrails into the ground. If you are installing the rail supports on concrete or asphalt, you will need to use a drill and bolts. You will need a post-hole digger if you are installing the supports into soil.
References
Tips
Check your local building codes to see if there are further requirements for installing handrails on wheelchair ramps.
Writer Bio
Alan Sembera began writing for local newspapers in Texas and Louisiana. His professional career includes stints as a computer tech, information editor and income tax preparer. Sembera now writes full time about business and technology. He holds a Bachelor of Arts in journalism from Texas A&M University.
Photo Credits
John Rowley/Photodisc/Getty Images
More Articles