How to Turn an Antique Basket into a Unique Pendant Light
When we came across this antique egg basket at a local farm estate, we fell in love with its rustic appeal. The basket had seen better days but still carried charm from its past work.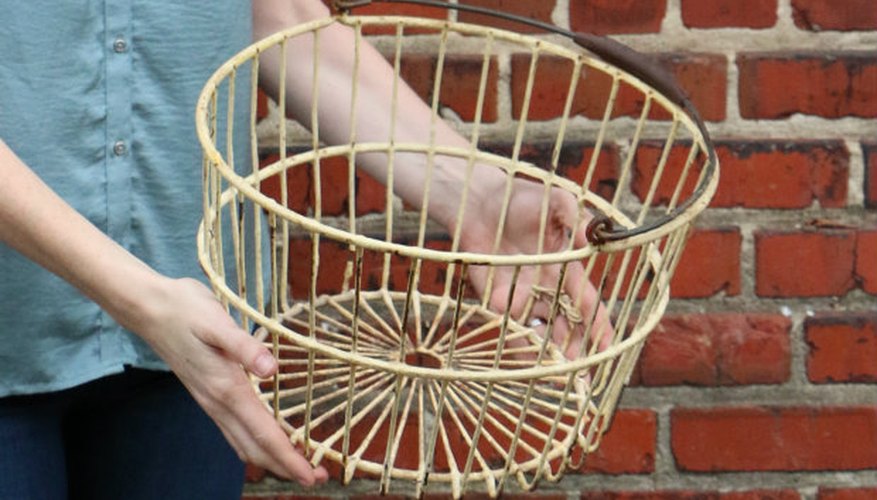 Instead of using it as a basket, we brought it home to transform it into a hanging pendant light with an aged industrial feel. Because we loved the caged construction so much, we thought it would work well as a shade and make a real statement in the upper hallway of our home. As an added bonus, the basket already came with a central hole, perfect for using with a pendant kit.
Tim actually has a background in electrical work and declared this a simple undertaking (_yes, I love this about my husband!_), so we're eager to share just how manageable it can be to make a pendant light of your own using an antique find for the shade and a few basic lighting materials from the hardware store.
_**Things You'll Need:**_.
* Box cutter * Wire strippers * Fabric-covered electrical cord, cut to desired hanging length plus an additional 12 inches _Example:_ For a 40-inch drop length, you'll need 52 inches of cord * Standard porcelain light socket (this can vary depending on what you are trying to hang) * 1-inch screws, #6-32, 2 * Screwdriver * Standard ceiling canopy fixture * Wire cutters.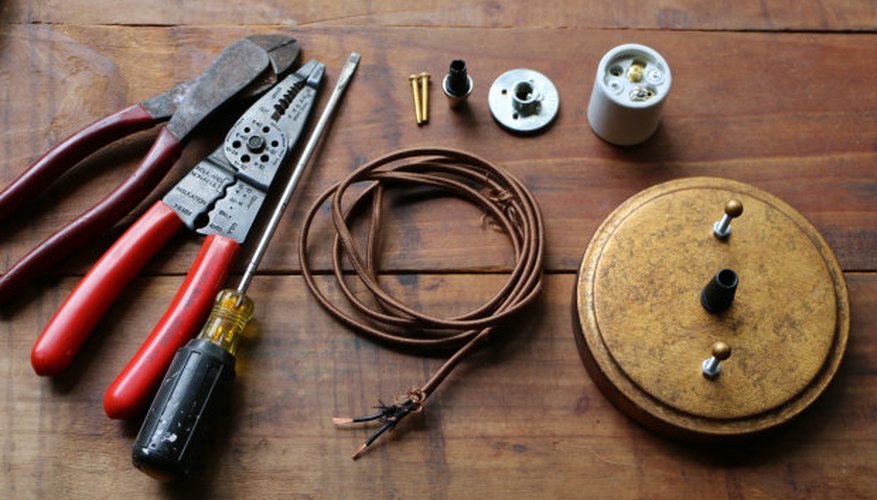 Start by assembling a basic pendant kit with the cord and light socket pieces. Using a box cutter, split the outer cord sheath open roughly 2 inches to expose the wires inside. Using the wire strippers, strip away the wire insulation to expose the raw copper wires and give them each a little twist to keep them secured together.
Don't worry about a little fraying or messy ends on the outer fabric cord. These will all be hidden in the next steps. Thread this same end, the split cord, through the upper pieces of the socket hardware, screwing gently together after threaded.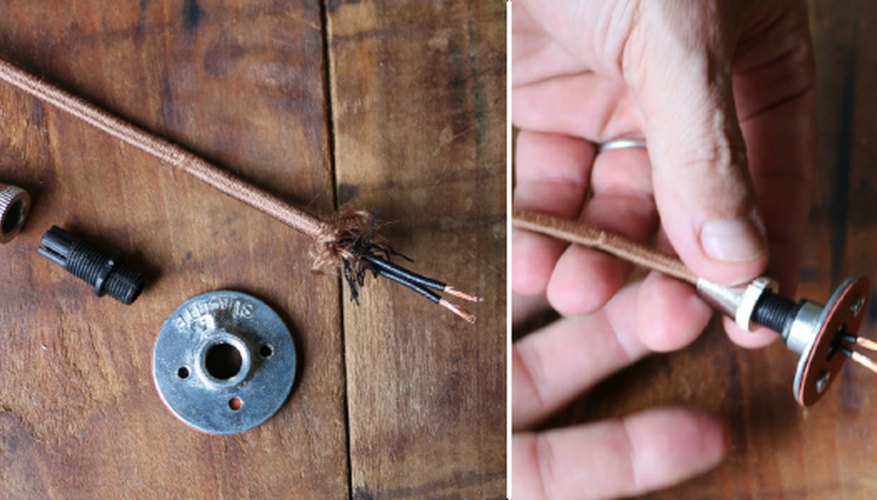 Thread the remaining cord up through the bottom hole of the basket shade where you'll attach the lower portion of the socket (where the bulb will screw in).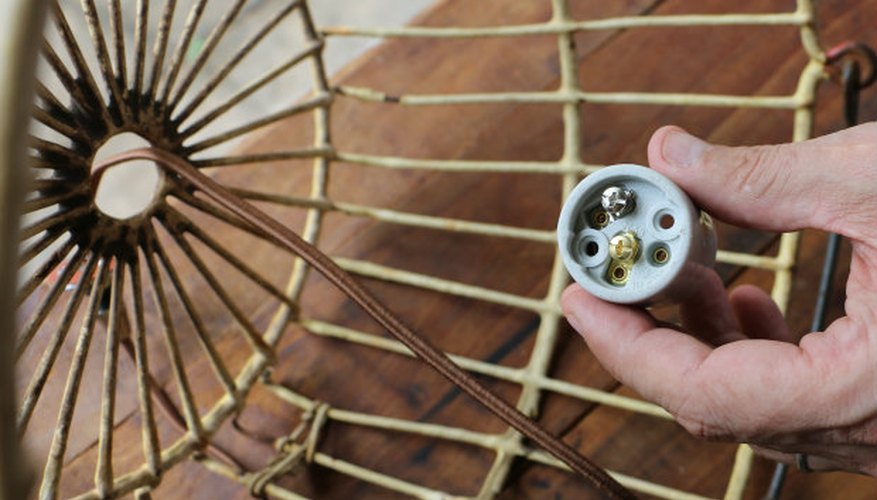 You'll first want to wrap the exposed ends of wire to this lower portion of the socket around the terminal screws. To make this an easy step, curl the wire around the base of a screwdriver, and then position the curled wire around each of the terminal screws, using the screwdriver to tighten and secure.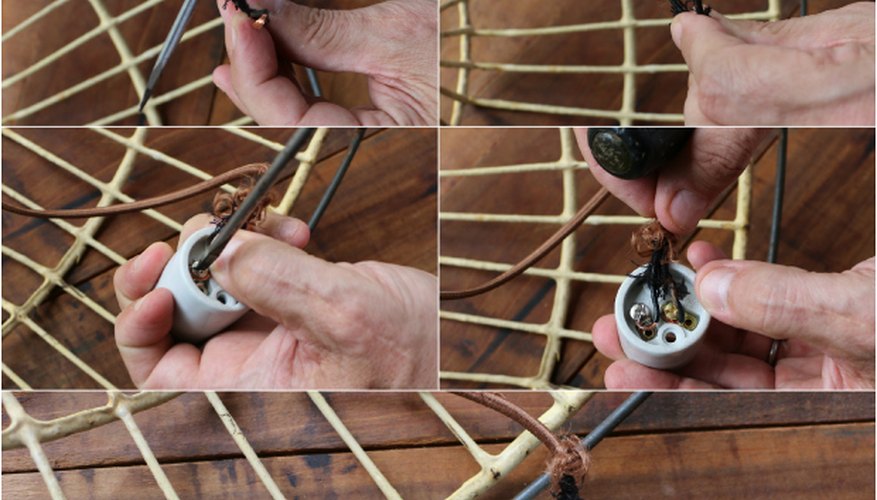 When wired, attach the upper and lower portions of the socket together, sandwiching the basket shade using the two screws. Then tighten the set screw on the top of the socket to secure everything in place. _**Note:**_ the standard socket will come with two screws. We replaced these with the longer, 1 inch version to account for the added space the metal basket creates.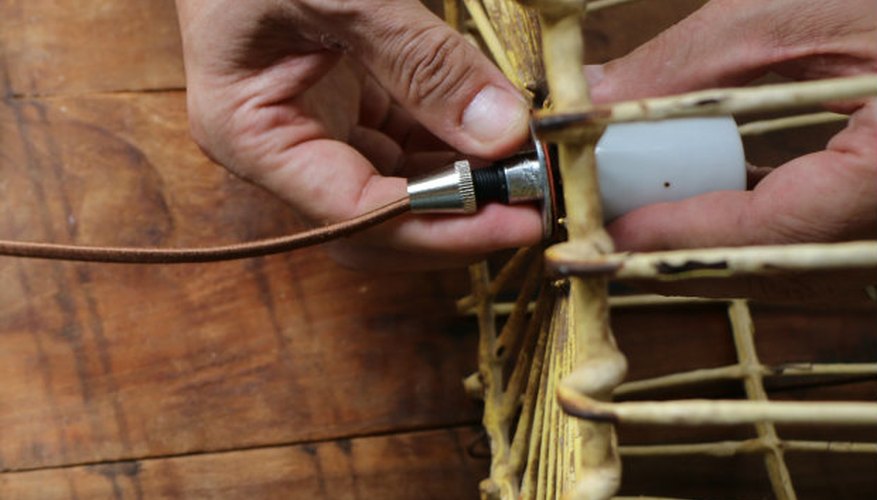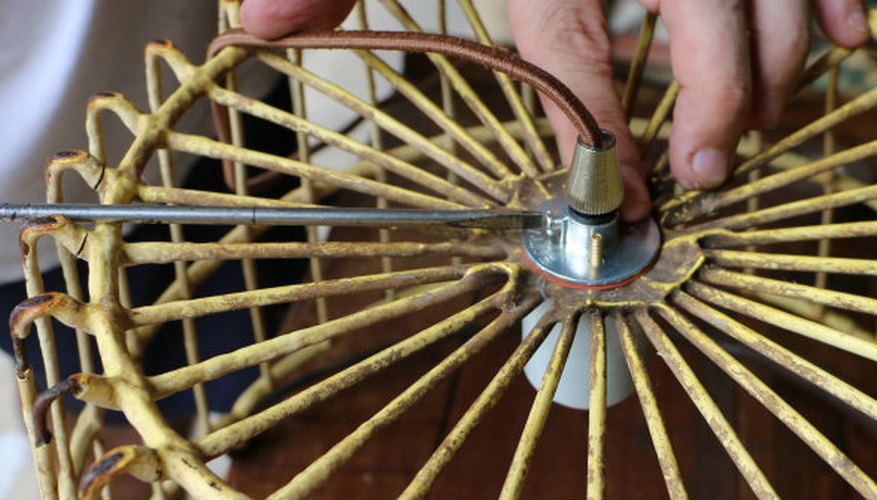 To finish the pendant, split and strip the wires on the remaining end of cord just like we did. Thread that end through the lamp canopy and secure with a [UL knot](http://wwwehowcom/how_7985119_tie-lamp-socket-wiring-repairhtml/?utm_source=17apart&utm_medium=contributor&utm_campaign=blognetwork).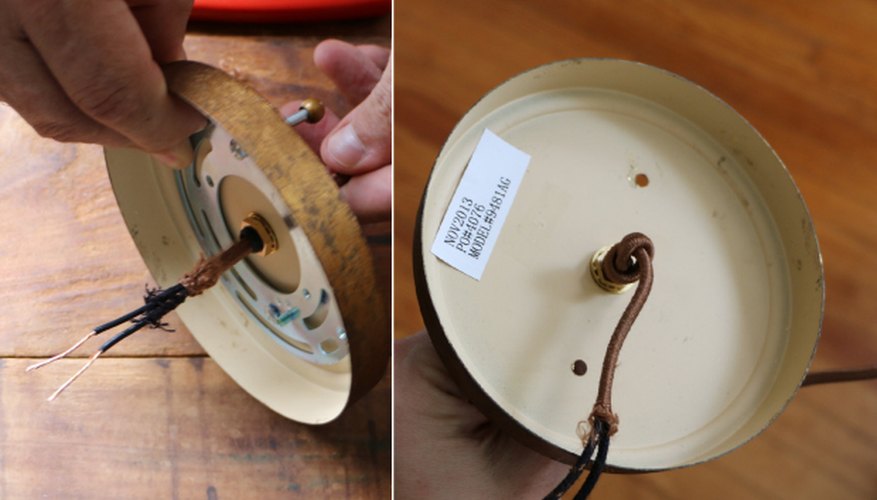 Now you've made your very own pendant light ready for installation. It's that simple. To install, turn off the electrical breaker where you'll be working, and then hang and wire the light from the ceiling per your locale's lighting codes before screwing in the bulb. Adjust the hanging length of the cord with wire cutters as needed.
The key to pulling off this rustic, industrial look is finishing the pendant light with a large, vintage-style exposed-filament bulb.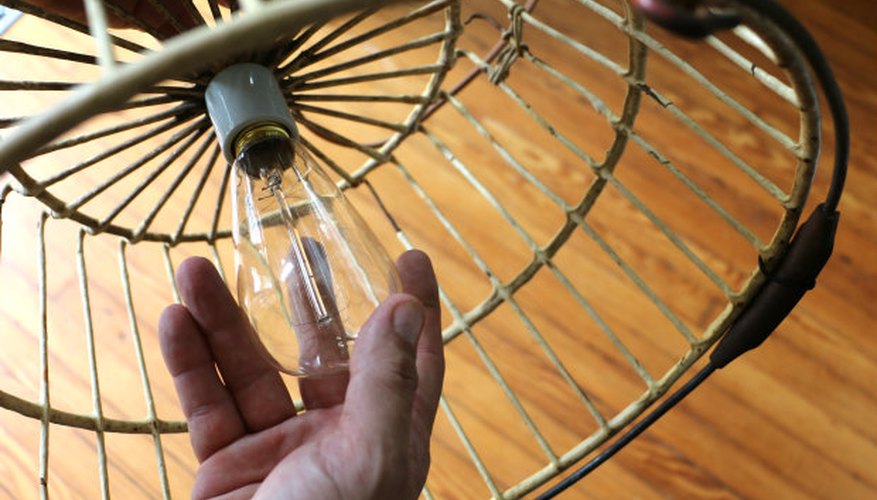 You can usually find them in the light bulb section of your local hardware store.
We're so pleased with the final result!.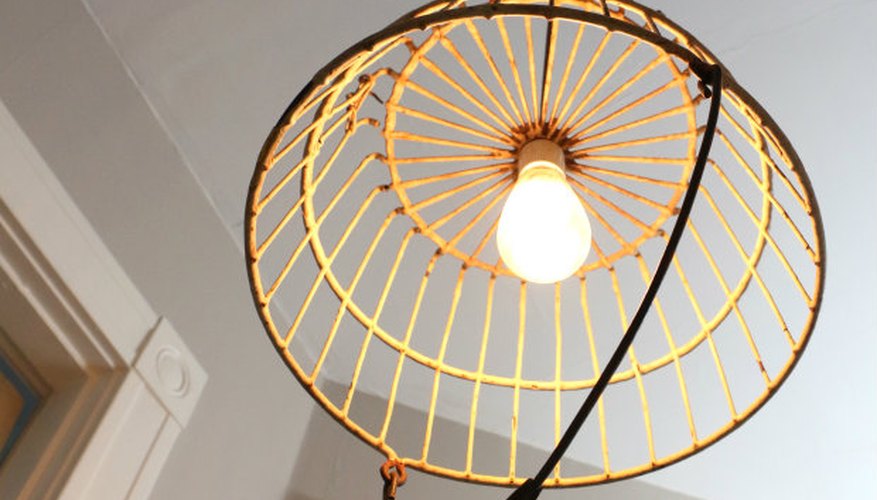 The hanging basket transforms the upper hallway where we installed it when turned on. The caged construction creates beautiful shadows and patterns all along the ceiling and walls.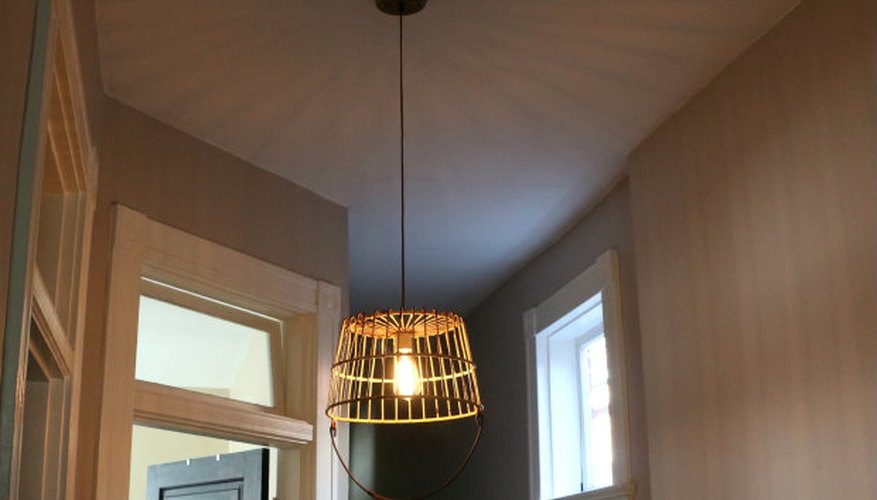 Looking for more bright ideas? Learn how to make these [hanging mason jar votives](http://wwwehowcom/ehow-home/blog/a-glowing-gathering-diy-outdoor-hanging-mason-jar-lights/?utm_source=17apart&utm_medium=contributor&utm_campaign=blognetwork) to create a glowing outdoor atmosphere and see how simple it can be to [make an outdoor fire pit](http://wwwehowcom/how_5266738_build-easy-backyard-firepithtml/?utm_source=17apart&utm_medium=contributor&utm_campaign=blognetwork) to enjoy throughout the summer into the fall.
Cheers,
Mary & Tim

**[More from Tim and Mary](http://wwwehowcom/ehow-home/blog/byauthor/17apart/)**.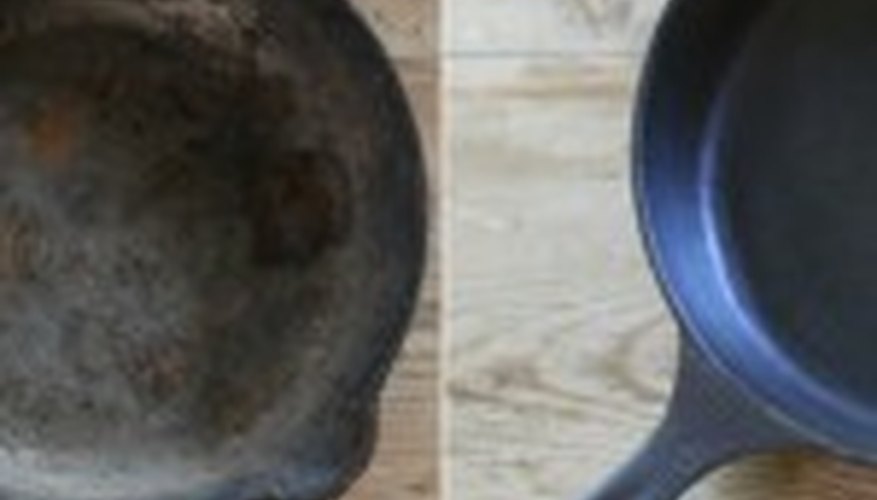 [5 No-Fail Steps to Restoring and Seasoning Rusty Cast Iron Skillets](http://wwwehowcom/ehow-home/blog/5-no-fail-steps-to-restoring-and-seasoning-rusty-cast-iron-skillets/).
[An Outdated Garage Sale Dresser Gets a Shabby Chic Makeover](http://wwwehowcom/ehow-home/blog/before-after-an-outdated-garage-sale-dresser-gets-a-shabby-chic-makeover/).
[How to Turn Flooring into Modern Placemats](http://wwwehowcom/ehow-home/blog/how-to-turn-flooring-into-modern-placemats/).
[Turn Empty Spice Tins into Mini Kitchen Organizers](http://wwwehowcom/ehow-home/blog/magnetic-appeal-turn-empty-spice-tins-into-mini-kitchen-organizers/).
__Keep up with Mary and Tim's adventures in DIY, home and gardening on their collaborative lifestyle blog, [17Apart](http://www17apartcom/ "17 Apart"). Find them on Instagram ([@17Apart](http://instagramcom/17apart "17 Apart Instagram")) and page through delicious recipes on Tim's food blog, [EAT](http://wwwtimvidraeatscom/ "EAT")__.
Photo credits: _Mary & Tim Vidra_.