Miniature Fence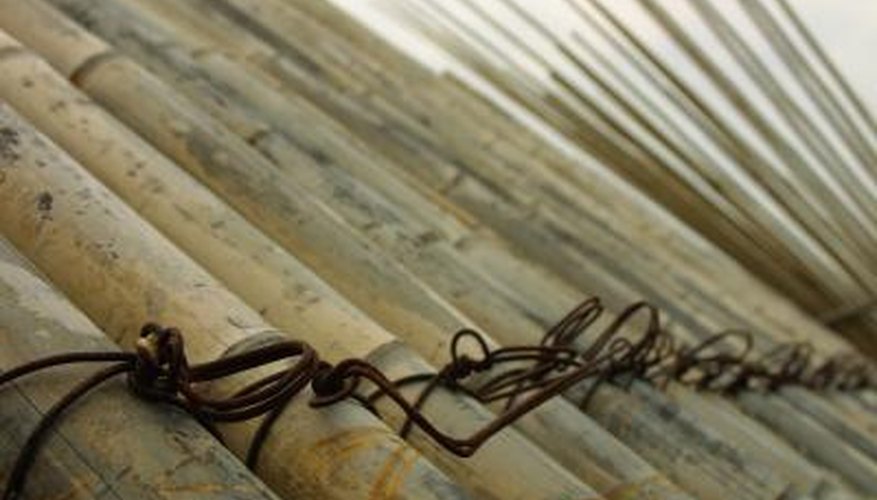 It is naturally rot resistant, aesthetically pleasing in many landscape designs, easily obtainable and affordable. For a greener approach, try growing your own bamboo. Just make sure the plants cannot become invasive in your local surroundings.
Container gardens and other small flowerbeds look nice with miniature fencing. Make a miniature fence by weaving small bamboo poles together. You can rely on tension to hold the poles together or use fishing line to tie the overlapping poles securely. If the bamboo is untreated, use either an outdoor stain or outdoor paint to seal the wood. As long as the bamboo fence is able to dry out between rainstorms, it should last for years. Avoid placing the base of the fence directly on the ground to prevent water from traveling up the poles. If you are making a standard sized bamboo fence, the poles will require greater securing. Use strong twine to hold them together.
Bamboo Wind Chimes
Drill two small holes across from each other in one end of your bamboo poles. Run a piece of fishing line through each bamboo pole. Make each piece of fishing line longer than the previous so the bamboo poles hang at different levels. They should still be able to touch each other when hung. Glue four bamboo stakes or poles together to form a sturdy square shape. Drill holes in the square to run the fishing line through, or simply tie the hanging poles from it. This project works best with medium to large bamboo poles. Very small bamboo poles will not give that "clunking" wind chime effect.
Bamboo Placemats
Use small bamboo poles to make placemats for your outdoor furniture. Do this by gluing, weaving or tying the poles together to form a mat. To make a table runner, use the same technique; simply make the runner span the length of the table.
Bamboo Plant Markers
Use bamboo stakes to mark your plants. Use an outdoor glue to affix the plastic plant care tags to the end of bamboo poles. The cards should be included with most plant purchases. Stick the untagged end in the ground next to the appropriate plants. This will help in keeping your garden plants organized.