Appliance Painting & Refinishing
Whether a stove is lacking it's original shine or a refrigerator doesn't match a new decor, sometimes an old appliance needs a fresh paint job. It's not uncommon for an appliance to mechanically outlast its style and color by many years. When on a budget, refinishing an appliance may be a desirable alternative to purchasing a new one. With proper planning and preparation, an appliance painting project can be executed flawlessly and with outstanding results.
Surface Preparation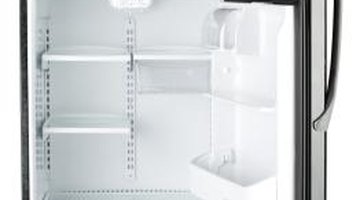 With any painting project, surface preparation is very important. When refinishing a painted surface such as an appliance, roughen the existing paint with 320 grit sandpaper to allow the new paint to adhere. After sanding, clean the surface with lightly soapy water and allow it to dry. A final wipe down with rubbing alcohol and an clean, cloth rag will remove excess dirt and oils leaving a paint ready surface.
Materials Selection
To produce a showroom floor finish on an appliance, spray paint should be used. Selection of paint will be determined by the appliance being painted, and the desired result. For a professional, new appliance look, consider purchasing an appliance epoxy spray paint from a home supply or hardware store. For stove tops and ovens, a heat-resistant epoxy paint is also available. For a less-expensive option, normal household oil-based spray paint can be used on refrigerators, washing machines and other appliances that do not produce high heat.
Masking
It may be undesirable to paint certain areas of an appliance such as handles, windows or knobs. Some parts are easily removed without creating excess work, such as oven knobs. For other areas, consider using a light tack masking tape and plastic sheeting to cover glass, logos, seals, trim, coils and handles. With most paints, multiple light coats should be applied from a distance of roughly 12 inches. Manufacturer suggestions will be plainly marked on the product label.
Work Safely
When using an aerosol spray paint, it is recommended that eye and breathing protection be used. Also consider performing this project in a well-ventilated area to allow paint fumes to escape. Cover nearby valuables and floors with plastic sheeting or a drop cloth to prevent damage from over sprayed paint.
References
Writer Bio
David Hamrich has been writing professionally since 2008, drawing on more than 15 years of experience as a marketing and engineering contractor and consultant. He is a certified irrigation contractor and consultant in the southwest United States. Hamrich has degrees in industrial engineering and applied environmental conservation, and is certified with the Texas Natural Resource Conservation Commission.
Photo Credits
PhotoObjects.net/PhotoObjects.net/Getty Images
More Articles